In order to continue reducing power loss to the planned level of 4.55% in 2021, EVNNPC has focused on many solutions such as investing in upgrading and renovating and repairing the power grid, calculating optimal grid operation modes , applying information technology to measure electricity consumption.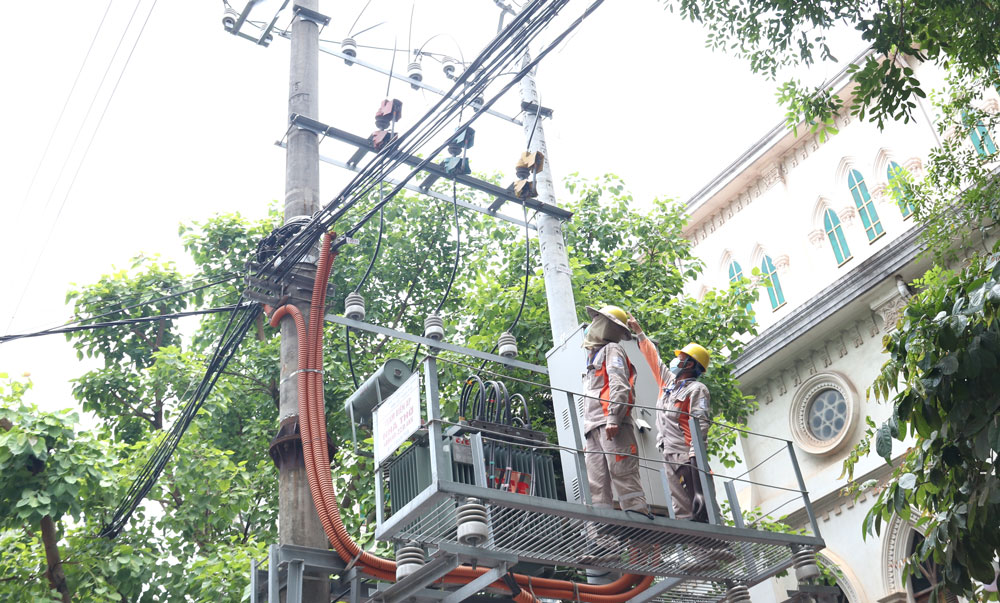 EVNNPC focuses on inspecting and reviewing substations to determine the causes of power loss. (Photo: EVN)
In 2021, EVNNPC has regularly organized inspection teams to inspect the implementation of power loss (PL) reduction at its units; analyze, evaluate and determine the causes of losses for voltage levels, substations and transmission lines, thereby giving proper measures to reduce heat loss for each area.
Thereby, the PL rate in August reached 4.82%, decreased by 0.22% over the same period in 2020. The accumulated power loss rate in 8 months was 4.58%, decreased by 0,42% over the same period in 2020.
Ms. Do Nguyet Anh - General Director of EVNNPC said, in fact, the room to reduce the PL of the Corporation remains quite large; some units are still implementing the reduction of PL in passive way. To achieve the set target, reducing power loss to ≤4.55% in 2021, Ms. Do Nguyet Anh requested Electricity companies to drastically implement key solutions; attach specific responsibility of each individual to the results of reduction of PL of the unit. At the same time, strictly control technical and business data... to ensure that there is a basis to accurately determine the causes of loss, thereby having appropriate solutions.
Especially, in the coming time, units need to change the management for reducing PL. Specifically, it is necessary to only solve and personalize all contents, in which attach personal responsibility for KPI scoring, task completion associated with the responsibility of the head, consideration of salary payment for employees according to the targets assigned by the Corporation, Ms. Do Nguyet Anh stressed.
Amid complicated COVID-19 pandemic, and the stormy season has arrived, the Northern Power Corporation urges customers to increase the use of online electricity services to pay fee without cash; use electricity safely, economically and efficiently. Customers can visit the website of Northern Power Corporation https://npc.com.vn, the Corporation's fanpage https://www.facebook.com/evnnpc.viniemtincuaban and call the Customer Service Center 19006769 of the Northern Power Corporation for support.
Ha Tran