Sharing about the application and use of the solar power system, Mr. Vu Thanh Tung, Tran Hung Dao ward, Thai Binh said: Since May 2020, his family has installed and tried this energy source. With a fairly simple technique, I bought 8 solar panels with an area of ​​​​18 m2 (each panel is more than 2.2 m2, capacity 440W, voltage 48.5V), devices that support inverters (Inverter) , 2-way electricity meter, wiring and self-installation on the roof. Initially, he decided to try it out, so I only invested over 10 million VND for a system with a capacity of 1 kWp, generating from 12 to 15 kWh/day. Before installing the solar power system, the family had to pay more than 1 million VND/month for electricity, now it's only about 200,000 VND/month.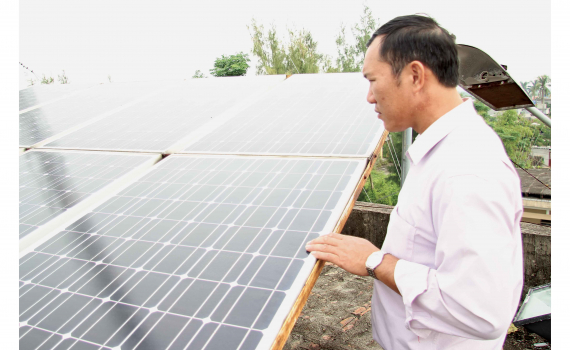 Solar power system installed at the headquarters of the People's Committee of Nam Cuong Commune, Tien Hai, Thai Binh.(Photo by Thai Binh Newspaper)
For families using many electrical appliances, the use of solar electricity is quite convenient and economical. Moreover, in the summer, grid overload often occurs. When operating the solar power system, the amount of electricity used by the household using the grid is reduced. Moreover, the use of electrical equipment is no longer completely dependent on the grid. Besides the advantages of economic efficiency, solar power is a green, environmentally friendly product that is being encouraged to use.
In addition to households with economic conditions that have invested in solar power systems for daily use, many households save energy by installing solar hot water systems, building biogas tank, using energy-saving devices. Hoang Duc Thien's family, Nam Cuong commune, Tien Hai district for many years have used gas from biogas tanks as fuel, which has contributed to saving living costs.
Along with the development of the country, the material life of the people is improved, so the demand for energy consumption is increasing. Meanwhile, resources to produce energy such as coal, fuel... are increasingly depleted and inadequate, leading to a large gap between supply and demand. The use of green energy in Thai Binh province has contributed to saving energy, increasing production efficiency, while protecting the environment and responding to climate change.
To develop green energy, Thai Binh province continues to direct localities to strengthen communication in the mass media and training courses to educate and raise people's awareness about efficient use of energy associated with environmental protection. Specialized departments and branches coordinate with localities to organize consultancy and propaganda on economical and efficient use of energy, and introduce basic concepts of energy in economic development along with environmental protection; recommends the use of low energy consumption equipment, less impact on the environment...
Ha Tran