In recent years, besides ensuring stable and continuous power supply, power saving has always been of special interest to Tra Vinh Power Company (PC). Accordingly, Tra Vinh PC well implemented the annual electricity saving program plan, mobilized to save electricity, attracted a large number of businesses and millions of households to participate, helping customers understand how to use electricity most effectively and economically as well as raising people's awareness and responsibility to the community.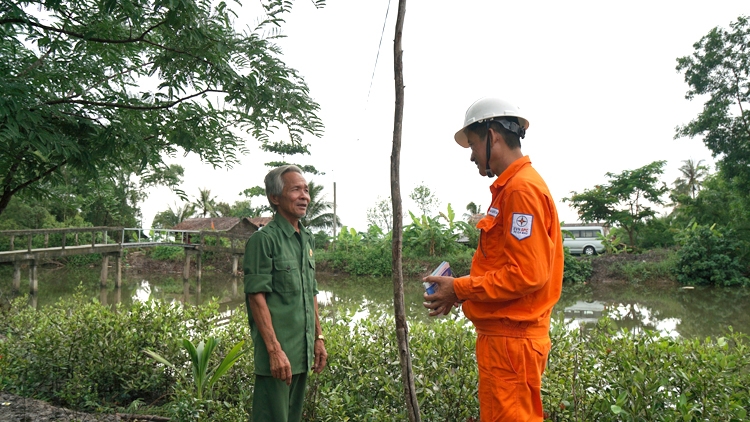 Tra Vinh PC propagates power saving safety in Phu Nhieu village, Thanh My commune, Chau Thanh district, Tra Vinh province
Mr. Quanh Hai Ho - Deputy Director of Tra Vinh Power Company said that over the past time, Tra Vinh PC is one of the power units in the South that has drastically and effectively implemented the power saving program. Tra Vinh saves more than 40 billion dongs of electricity each year. This result is achieved thanks to the people's response to participate in many good and practical power saving programs with the life situation.
To fulfill the target of savings in 2021, Tra Vinh PC actively cooperates with local authorities to launch many power-saving competitive programs, promote extensive propaganda to electricity users, advertise to promote high-performance electrical equipment, implementing specific programs and solutions..., thereby gradually bringing the power saving policy into the daily life of people and society.
Thanks to the synchronous implementation of solutions, as of August 2021, Tra Vinh's electricity industry has saved 17.58 million kWh, reaching 2.35% of commercial electricity output and reaching 73.45% of the year plan ( 23.94 million kWh) in which administrative, public lighting, daily-life lighting, service business and production enterprises have exceeded the assigned targets.
Ha Tran