Recently, Prime Minister Pham Minh Chinh had a phone conversation with the US President's Special Envoy on Climate Change John Kerry.
At the phone conversation, the two sides agreed to evaluate the Vietnam-US relationship after more than 25 years of steady and in-depth development, in which economic-trade cooperation and sustainable development cooperation are in focus and cooperation on clean and renewable energy is a bright spot and a new driving force.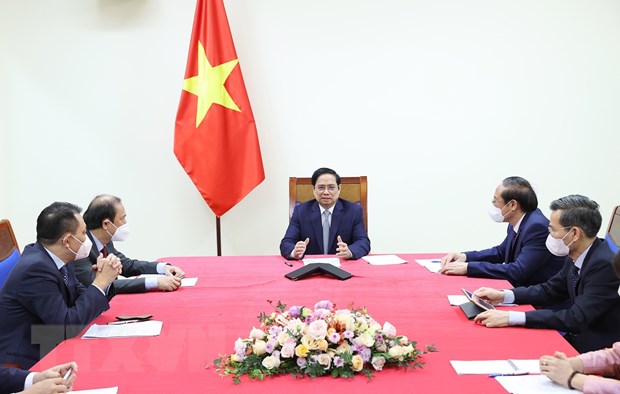 Prime Minister Pham Minh Chinh had a phone conversation with Mr. John Kerry, Special Envoy of the US President. (Photo: Duong Giang/VNA)
Cooperation between the two countries in areas such as maritime security, education and training, climate change, science and technology is increasingly close and constantly expanding.
On this occasion, on behalf of the Government and people of Vietnam, Prime Minister Pham Minh Chinh also expressed his gratitude to the US Government and people for supporting vaccines and medical equipment for Vietnam to prevent and combat the disease during the recent COVID-19 outbreak.
Prime Minister Pham Minh Chinh highly appreciated the determination of the Government of President Joe Biden to promote global joint efforts to respond to the climate crisis. This is a global issue that requires a global approach.
The Prime Minister affirmed that although the transition to a green economy still faces many difficulties after many years of war, Vietnam continues to strongly commit to responding to climate change, with special emphasis on climate change, especially transitioning to a low-carbon economy, with a roadmap to drastically reduce dependence on coal power and rapidly increase the proportion of renewable energy, in line with Vietnam's policy on sustainable development, in line with current conditions and the situation of Vietnam. Vietnam has introduced a series of measures to reduce methane emissions, cut greenhouse gas emissions and develop sustainable energy.
The head of the Vietnamese Government also suggested that the US continue to increase support for Vietnam in dealing with the consequences of the war, especially dioxin detoxification, thereby contributing to environmental cleaning and sustainable development in Vietnam.
Special Envoy John Kerry affirmed that the US attaches great importance to the Comprehensive Partnership with Vietnam, wishing that Vietnam "strong, independent and prosperous."
Mr. John Kerry highly appreciated Vietnam's efforts in responding to climate change and affirmed their desire for Vietnam to further promote its role in responding to the global climate crisis.
Mr. Kerry said that Vietnam has great advantages and potential in developing clean and renewable energy (hydroelectricity, gas power, wind and solar power), affirming that the US supports and is ready to support Vietnam to become the leading country in the region in clean and renewable energy technology with specific cooperation projects.
Ha Tran