It is necessary to replace old equipment with modern, energy-saving ones. Old equipment will normally consume a large amount of power to load, so when used, it will greatly affect electricity costs, in addition, some old equipment and machines may leak electricity and trigger a fire. Therefore, businesses should consider replacing with other modern equipment that is both safer and more economical, installing high-performance electrical and mechanical equipment, including motors, lighting, pumps, heating and ventilation equipment…
According to Mr. Ha Dang Son, Director of the Center for Energy Research and Green Growth - "The potential for saving electricity in the manufacturing sector is still huge. Using high-efficiency power-consuming devices can save 20-40% of electricity consumption depending on their size and technology. Especially for offices and production facilities, this saving amount of electricity is not small."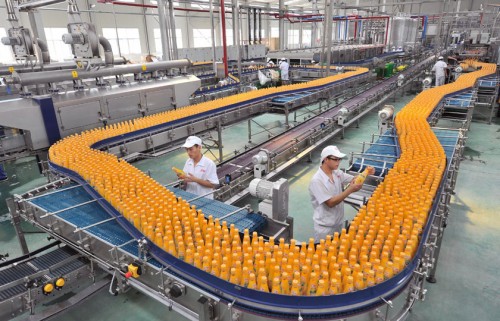 Using modern, automated production equipment and lines in factories
Applying inverter technology to control the speed for motors in the factory according to actual requirements. This is a proven method to save energy effectively in many different applications such as: air compressors, boiler fans, crushers, pumps... In addition to saving electricity, using inverters also helps to soft start the engine, protect the engine, avoid pressure drop and reduce damage to the mechanical system.

Effective solutions that businesses often apply include: energy conversion, installation of systems used in combination with renewable energy such as rooftop solar power; install cooling efficient high heat recovery systems; applying energy saving technologies and solutions; strengthen propaganda and supervision of the implementation of the practice of energy saving.
Another important point to note is the application of ISO 50001:2011 - Energy management, building a high-quality energy management system that will help companies and energy consumers in the industry improve energy use, and uses energy economically and efficiently. Mr. Le Sy Trung - Director of TUV Nord Vietnam Co., Ltd shared, applying the management model according to ISO 50001:2011, businesses will control their energy use strictly, sustainably and systematically from which to find energy saving solutions."
Vinamilk is one of the enterprises that use energy efficiently thanks to the application of ISO 50001. This is considered an important strategy for many years, making Vinamilk a pioneer in practicing circular economy. Vinamilk's factories have all achieved the certifications of FSSC 22000, ISO 14001, ISO 50001, OHSAS 18001, energy control standard ISO 50001, environmental control standard ISO 14001. At Vinamilk's modern factories, green energy and renewable energy is the main source of energy in production activities. Biomass fuel from rice husk, coir, sawdust, wood chips is converted into boiler energy for production - environmentally friendly. Biomass energy accounts for 35% of energy used and increases over the years (Vinamilk has 9 factories using energy from Biomass).
Enterprises need to apply technology to measure, analyze, monitor and warn when there is an incident causing leakage or loss of energy. This tool helps the factory to easily manage electricity usage, reduce unnecessary energy consumption in the production process, and intervene in time when seeing abnormal power consumption and quickly find the cause.
It is necessary to control all areas and systems that consume the most energy, arrange a reasonable production plan, and minimize the use of equipment consuming large electricity capacity during peak hours. Optimizing the types of devices that have the necessary power usage just enough to avoid wasting power, not leaving electrical appliances idle, and taking advantage of excess heat sources to reuse energy effectively.
In industry, continuous improvement (Kaizen) activities are the way to promote improvements in worker productivity, helping businesses save time and space and increase labor productivity, shortening time and reducing costs, simplifying work processes, reducing scrap and defects, and minimizing costs.
Along with that, it is essential to plan to save energy in the company in many forms, such as organizing cleaning and maintaining equipment to maintain the durability of equipment and machines, saving costs.
The promotion of the implementation of energy-saving solutions in the industry as above will reduce unnecessary energy consumption in the production process, helping to reduce electricity costs for businesses, especially manufacturing enterprises.
Ha Tran