Hung Yen is a densely populated province with growing industrial production. Annually, the province's electricity consumption is quite high and increasing rapidly. Therefore, the Provincial People's Committee has directed to save electricity, which is the optimal solution to prevent and overcome the shortage of electricity, while increasing benefits for electricity users and increasing competitiveness for companies and businesses.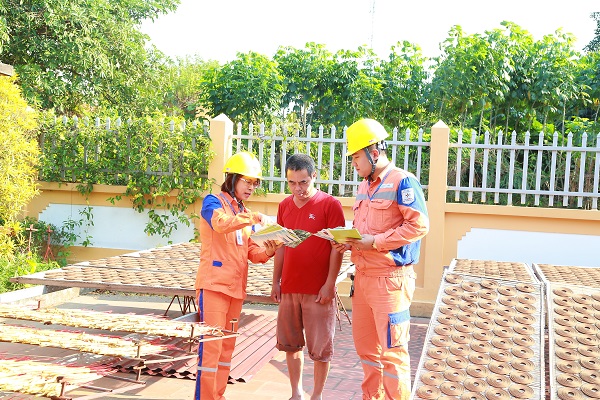 Hung Yen PC propagates the use of electricity efficiently and safely in Bao Khe commune, Hung Yen PC (Photo: Hung Yen PC)
Accordingly, in order to ensure safe power supply in the hot season as well as to minimize the risk of possible electrical incidents, over the past time, Hung Yen PC has directed its departments and electricity to review and update, analyze and assess data, load characteristics in each area to make a load forecast close to reality. At the same time, prepare a safe and reasonable mode of grid operation, develop a suitable power supply scenario for each area.
PC Hung Yen also pays special attention to the propaganda of safe, efficient use of electricity. The Company also develops a plan to train human resources for propagandists so that each employee in the Company is an active energy-saving propagandist, always leading by example in the practice of saving electricity.
At the same time, customers need to balance the production schedule in the direction of reducing electricity use during peak hours, increasing electricity use during off-peak hours, investing in energy-saving production equipment, and coordinating with electricity sector to monitor and control power quality. For manufacturing enterprises, units need to arrange reasonable production plans, limit the operation of large-capacity electrical equipment during peak hours from 17:00 to 20:00 daily. Besides, invest, improve, and replace old, outdated and low-efficiency equipment with high-efficiency and power-saving ones; install more power metering devices at production departments, groups and teams to control the amount of electricity used.
Through the promotion of propaganda in the area, Hung Yen PC wants to always pay attention to the awareness of saving electricity. The practice of saving electricity becomes a regular activity of each unit and individual using electricity. This not only saves costs in living and production, but also contributes to reducing power supply pressure on the whole system, helping to operate the power system stably and safely, thereby minimizing the risk of power supply interruption. due to system failure during hot season.
Ha Tran