Hanoi Textile & Garment Corporation JSC
Among the typical units of energy saving can be mentioned the Hanoi Textile and Garment Corporation (Hanosimex). The unit has proactively installed economical inverters for spool motors, installed 3S sewing machine economizers for industrial sewing machines. In addition, besides the arrangement of factories and offices to make the most of natural light, the company invested in replacing 14,636 T10 fluorescent lamps and ferromagnetic ballasts with T8 lamps and ballasts.
In addition, a number of other improvements in lighting are also applied such as organize separate switches for each light or area so that it can be turned off when necessary; implement the method of reducing general lighting, combined with local lighting at each sewing machine.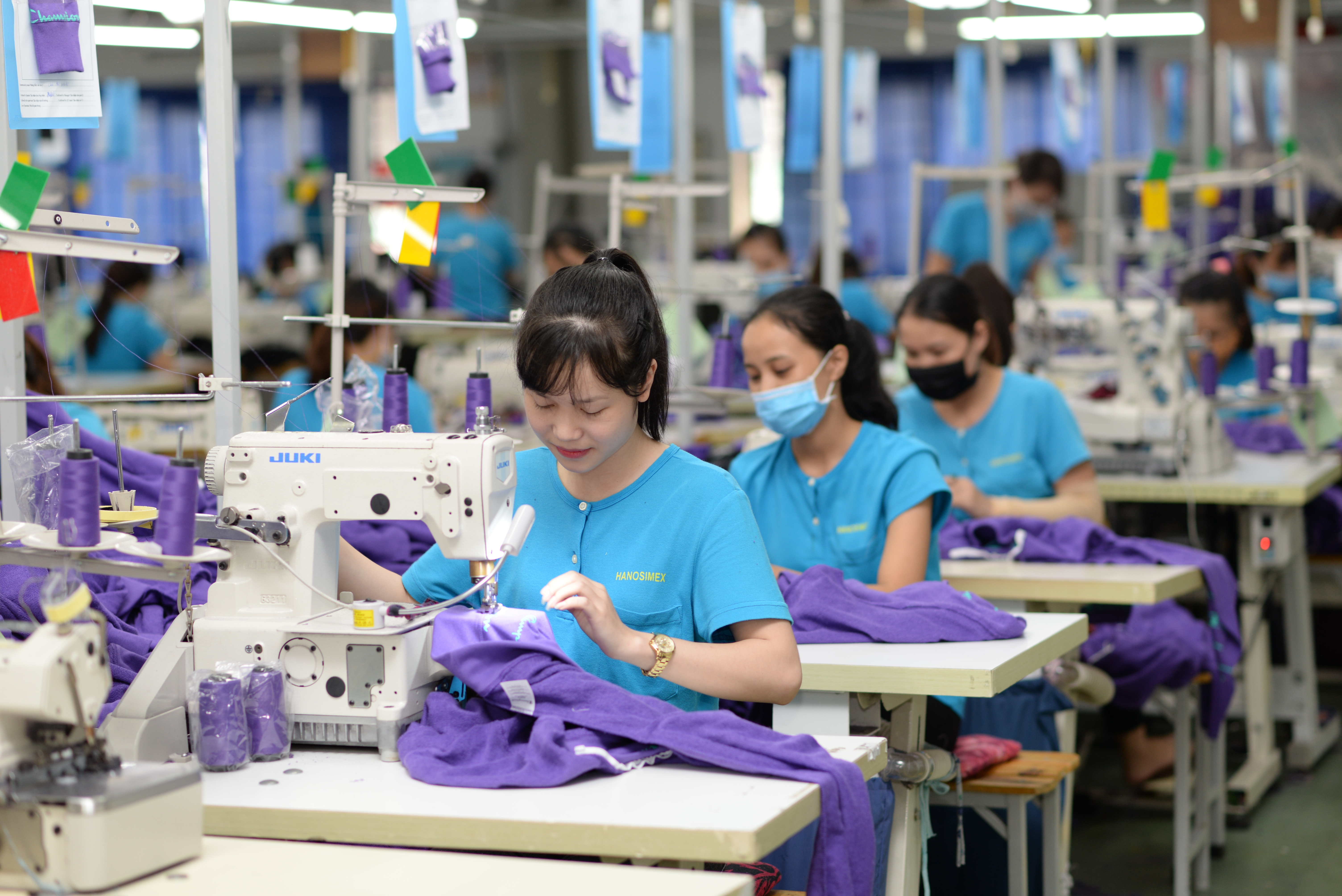 Hanosimex invests in modern technology to reduce energy consumption
By investment solutions, Hanoi Textile and Garment Corporation not only saves over 4 million kWh of electricity/year, but also helps reduce CO2 emissions equivalent to 4,000 tons/year.
Garment 10 Corporation
In order to save money in the most methodical and effective way, Garment 10 Corporation (May 10) has developed a suitable plan, with management and technical measures that can reduce losses, reduce energy consumption of vehicles and equipment, contributing to reducing production costs and increasing profits.
Accordingly, the company has invested in new technological equipment: The sewing machine uses a Servo motor to replace the clutch motor - the engine only runs when under load. Currently, 100% of sewing machines use this type of motor, invest in a Tunnel-type cooling system (ventilator fan and evaporative cooling system) that has high cooling efficiency but uses less electricity and limits the running time of the central air conditioner; new construction building always emphasizes on the design of enhancing glass doors, using natural light. Renovating and upgrading substations, power distribution centers, air compression centers. The equipment is set up at single place to help reduce the loss caused by power transmission, the loss of compressed air on the pipeline, thereby saving electricity costs and improving the safety factor. Invest 100% of LED bulbs for new projects and replace T8, T10 fluorescent bulbs for units. Install solar hot water systems for buildings, reduce electricity consumption from water heaters
In addition to investment measures, May 10 pays great attention to measures of technical work. Accordingly, the company reduced the number of general lighting bulbs and unnecessary areas, using small-capacity LED bulbs for local lighting of the locomotive. Dividing the lighting control switch in the factory into small clusters to make it easy to turn on and off when needed and when there are few people going to work. Always pay attention to installing power factor compensation and check and maintaining the system to work stably, ensure power factor 0.9 or more. Taking advantage of natural light by arranging windows to receive sunlight also helps save a lot of electricity for lighting and periodic maintenance of energy-using equipment.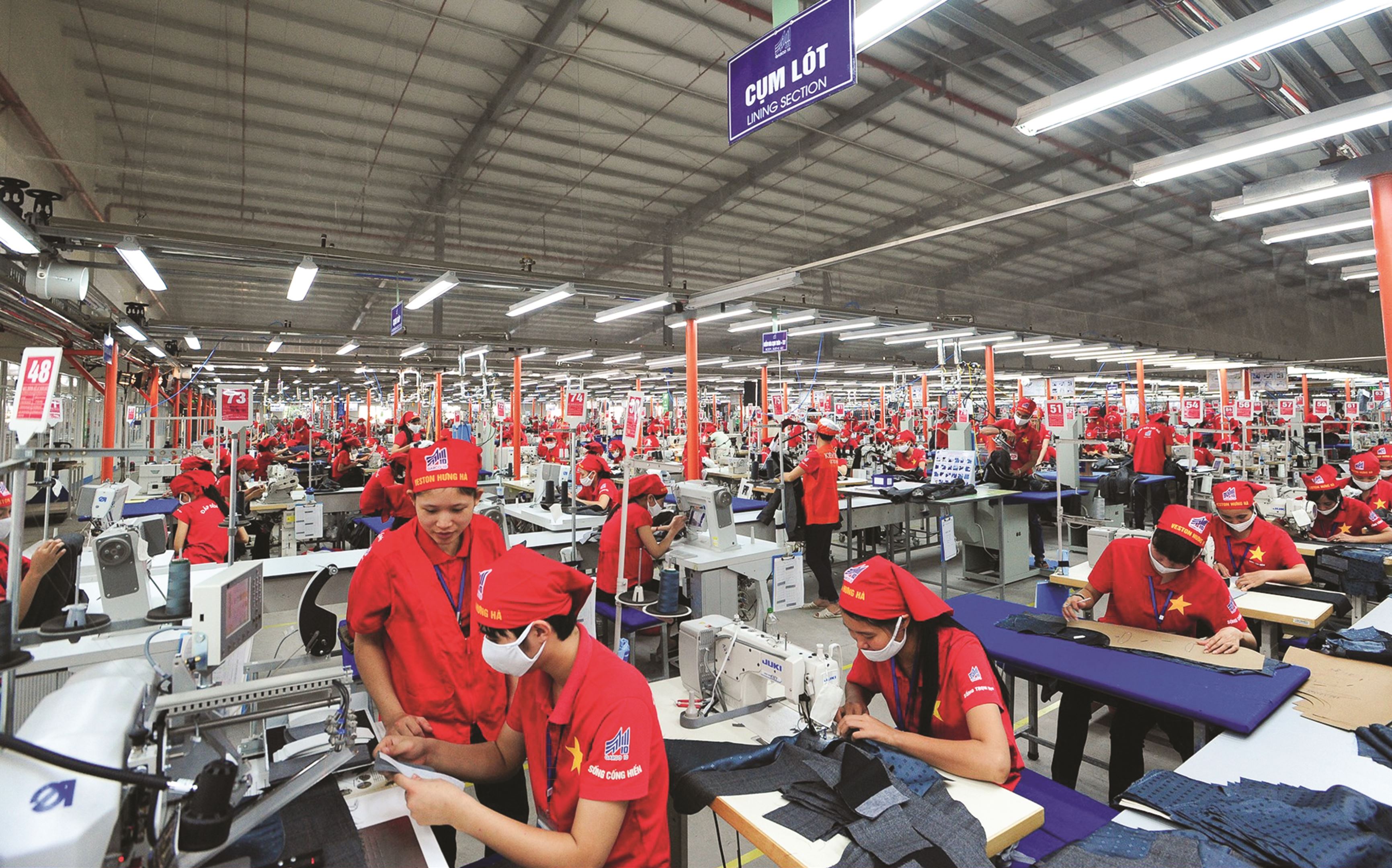 100% of sewing machines are equipped with May 10 use energy-saving Servo motors
Phu Vinh Hung Textile JSC
As one of Hanoi's key energy users, over the years, Phu Vinh Hung Textile JSC has applied many solutions to save electricity and optimize production costs.
Mr. Nguyen Quan - Head of Energy Saving Department, Hanoi Center for Industrial Promotion and Consulting for Industrial Development - said: "Through the energy audit, it has been shown that in the last 3 years, the total amount of electricity saved from all solutions of the company reached 404,735 kWh, equivalent to an electricity-saving rate of 12.6%."
To achieve the above results, the company has simultaneously applied many solutions to reduce energy consumption. Specifically, for management work, the company has planned training for energy managers; develop regulations on energy saving by reducing light consumption in unnecessary places, turning off electrical appliances when leaving the office or not in use. In addition, the company has installed light switches at working locations to reduce energy when there are no workers working; make use of doorways to get natural light; install compensating capacitors for the power supply system as well as having a maintenance plan for the equipment; replace all energy-saving LED lights in the factory area...
For investment solutions, the company has installed inverters for 4 exhaust fans with a capacity of 55 kW and 1 fan with a capacity of 37 kW. This option not only provides enough load, ensuring technology requirements, but also is the optimal plan in energy use and emission reduction. In addition, using a control inverter will help increase the life of the motor, improve energy efficiency.
For the solution to replace the spool system, the enterprise has replaced all 18kW spools with 10 45kW spools. As a result, in addition to reducing the product's energy consumption intensity, the company's output increased from 3,769 tons/year to 4,220 tons/year.
Saving energy has been really bringing long-term efficiency to textile enterprises. The awareness and popularization of efficient use of equipment is an important factor for businesses in the industry to reduce production costs and improve competitiveness.
Ha Tran