In particular, the construction of a school lighting model using high-efficiency and energy-saving equipment is of great interest. Bac Giang Industrial Promotion Center has deployed and installed a standard lighting system for the classrooms of more than 30 primary and secondary schools in the province.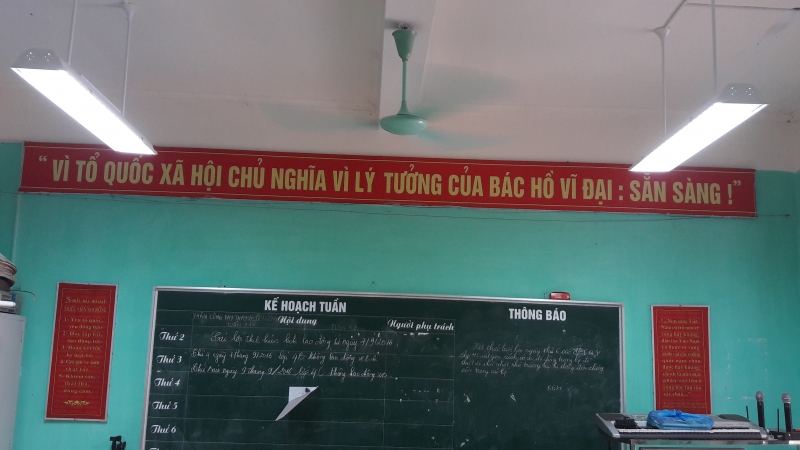 School lighting system at Le Loi Primary School, Bac Giang city
.The use of lighting products and electrical equipment with high synchronization, optimization of electrical, optical parameters and lamp life, ease of installation, replacement is essential. The quality of light must be ensured for the learning environment, so the lighting equipment used has a steel reflector, powder coated for reflectivity >70%, is designed with a reasonable opening angle, wide optical distribution, maximum light focus on the table; using fluorescent lamps T8 - 36W Nano Deluxe save electricity, high color rendering index Ra > 80; Electronic ballast, instant light on which does not cause eye fatigue; The light spectrum is suitable for the sensitivity spectrum of the human eye, with optical spokes to minimize glare.
According to Mr. Nguyen Van Tung, engineer of the Center for Industrial Promotion and Consulting for Industrial Development, "The new lighting system has been researched, calculated, selected with equipment and arranged for reasonable installation, although it does not take more light bulbs than the old system but improve the lighting parameters to meet the prescribed standards, thereby ensuring health, contributing to reducing vision defects for students."
Schools have been supported by the Bac Giang Department of Industry and Trade to install standard school lighting systems highly appreciated the model's effectiveness. The durability of the bulbs is high, the light ensures the school's medical requirements, without glare, the brightness is suitable for students, in particular, they saves half of the electricity consumption compared to the old school system. It is these things that have contributed to saving electricity for the locality.

Mr. Nguyen Van Phuong - Deputy Director of the Department of Industry and Trade also emphasized: "It is necessary to continue to further improve the responsibility of economical and efficient use of energy, to introduce, popularize and spread standard school lighting models."
Ha Tran