In recent years, leaders of the Party and the State have considered EE as a concern and central pillar to ensure energy security and sustainable development of the energy field. A complete legal framework was synchronously promulgated and issued, including laws, decrees and guiding documents. Furthermore, related programs and projects implemented by ministries and branches have brought remarkable effects in raising awareness and changing behavior. From 2006 to 2015, according to statistics, the whole country saved about 3.4% of total energy consumption. In 2019-2030, the VNEEP3 aims to save up to 8-10% of total energy consumption.
In order to boost EE activities, on May 7, 2020, the Prime Minister signed Directive No.20/CT-TTg on enhancing electricity saving in the period 2020-2025 (Electricity Saving Program). The Program set the goal of saving at least 2% of the total national electricity consumption. Since then, people and businesses about EE and EE activity implementation have greatly improved.
Drastically direction from the central level
The Prime Minister assigned the Ministry of Industry and Trade (MOIT) to assume the prime responsibility for and coordinate with ministries, branches and localities in monitoring, promoting and inspecting the implementation of the Directive. Hence, on July 20, 2020, MOIT issued Document No. 5088/BCT-TKNL on guiding the implementation of Directive No. 20, sending to the People's Committees of the provinces and cities under the central government.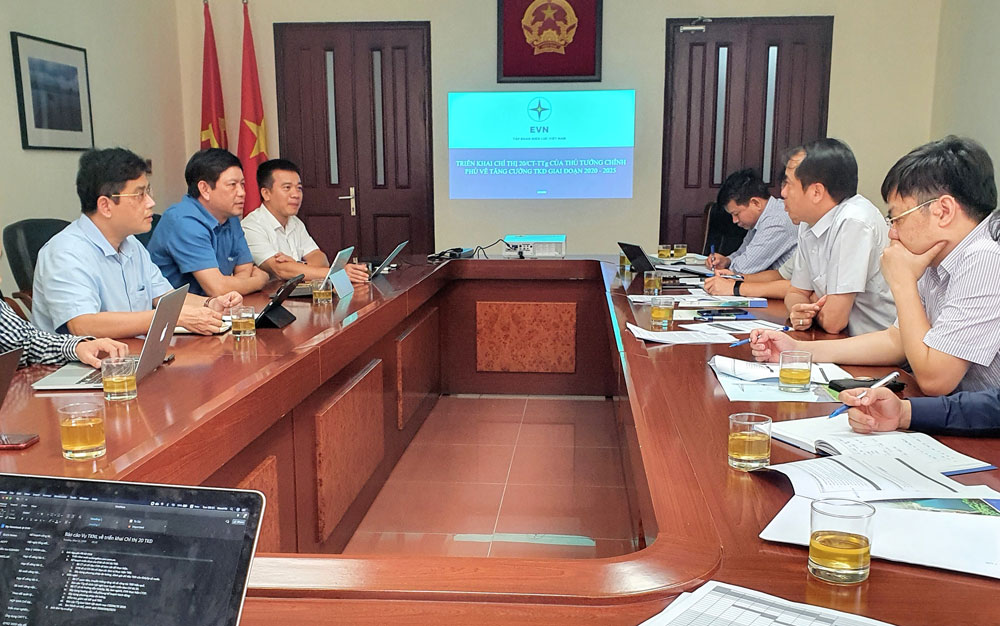 The Department of Energy Efficiency and Sustainable Development (EESD) has closely coordinated with Viet Nam Electricity on implementing Directive No.20.
In 2020 and 2021, MOIT supported 15 provinces and cities in developing VNEEP3 implementation plans to integrate EE solutions. Provinces and cities' experiences in developing the Action Plan of Directive 20 have been shared nationwide through technical seminars so localities could actively build their local action plans.
MOIT also has coordinated Viet Nam Electricity to develop methods to support provinces and cities under the central government implementing solutions and calculating EE output. In particular, boosting a variety of EE communication activities strongly impacts raising awareness and changing behaviors of people, businesses and agencies towards higher EE effectiveness.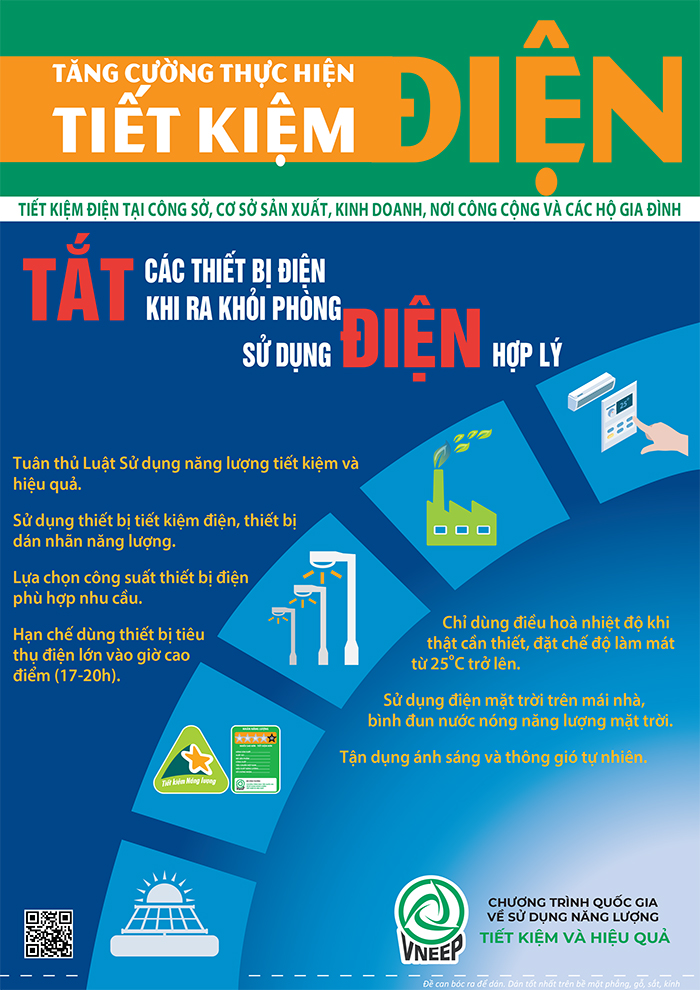 ​
Poster about Directive 20 conducted by EESD to promote to localities.
Besides, MOIT has inspected 37 agencies, the Department of Industry and Trade of provinces and cities, and businesses about implementing EE activities in general and electricity saving in particular. Furthermore, promulgating and issuing three technical guiding materials about EE measures in aquatic product processing, porcelain and textile dyeing, and frequently supporting businesses implementing EE solutions.
Viet Nam Electricity also plays a leading role in implementing EE activities besides ensuring electricity supply. EVN actively promotes EE measures to customers and communities, issuing numerous documents and drastic instructions to the Group's member units about EE implementation. Some widespread implemented programs to be mentioned as electricity saving propaganda, LED saving-energy light bulbs replacement, solar water heater promotion, piloting energy-saving modules for shrimp farms in 9 provinces in the Mekong River Delta, supporting farmers in Bình Thuận, Long An and Tiền Giang to replace incandescent lamps with compact fluorescent lights in the off-season of dragon fruit trees; non-commercial voluntary load duration (DR) program, etc.
Localities activeness
According to MOIT, 54 provinces and cities formed and issued the Action Plan of Directive 20 until now. Besides, they also assign focal agencies to implement EE activities and solutions, especially EE activities done by agencies and units using the local state budget, and households.
Regarding communication, 54/63 provinces and cities have plans and organize EE communication activities for all inhabitants. Those activities include billboards and posters exhibition, radio and television broadcasting, EE and electricity safety use contests at unions and schools. In particular, 63/63 provinces and cities participate in the Earth Hour campaign every year.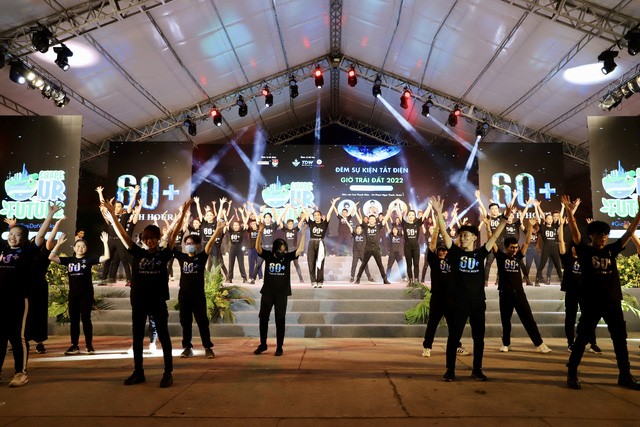 Earth Hour event organized in HCMC in March 2022
In terms of EE technical solutions, many provinces and cities promote solar energy use in households and businesses, which results in positiveness. Besides, enhancing energy-saving light systems in public areas, including roads, schools, hospitals and manufacturers. At the same time, encouraging businesses to limit the use of energy-use equipment during peak hours or when not needed and boost DR.
In terms of management, many local agencies and manufacturers have EE plans and commit to saving 2% of electricity use compared with the demand and setting EE performance as a criterion for assessing, voting and reviewing at end-year summary activity, like People's Committee of Quang Binh Province.
EE is the most practical and effective measure for alleviating the pressure of exploitation, production and supply of energy, enhancing economic efficiency, ensuring energy supply security, environmental protection and GHG reduction. It contributes to the national pledge's net-zero roadmap by 2050 at COP26. In this context, Directive 20 on EE enhancement in 2020-2025 is a prerequisite for achieving those targets.
Implementing Directive No. 34/CT-TTg dated August 7, 2017, on electricity-saving enhancement, nationwide the power saving was over 9 billion kWh, equivalent to VND 15,000 billion. Yearly average saving was 1.5% of total electricity consumption.
Tuệ Lâm edited. Giang Nguyễn translated.