In the three quarters of 2022, EVNNPC provided stable and safe electricity for 27 Northern provinces which served the power demand for socio-economic development and daily needs. The company focused every resource to ensure the high power demand on special occasions, high school graduation examinations, tertiary education testing, Tet holiday, and local socio-political activities, for instance, and to actively respond to seasonal typhoons, natural disasters and grid incidents.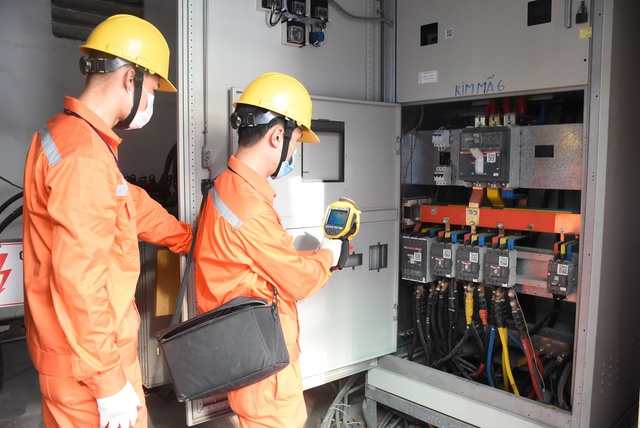 EVN staff checking the operation status of equipment (Photo by Toàn Thắng).
In this period, the company reached 64.755 billion kWh of commercial electricity, up 5.19% over the same period. Which, the portion of construction accounted for 63,52%, increased by 4.78%, those for consumption management was 29.55%, up 3.57% and the portion of trade and service accounted for 2.47%, increased by 12.81% over the same period in 2021. EVNNPC has the leading commercial power in the whole Group.
Until September 2022, there were 2.210/2.265 clients using less than three million kWh, accounting for 97.57%, and 1,302/1,380 clients using more than three kWh signed in the DR agreement, accounting for 94,34%.
In the coming time, EVNNPC continues to promote clients to actively take saving power action in peak hours, thereby avoiding the situations of peak demand, alleviating extremely high pressure and improving the economic effectiveness of the system. Besides, the company would create more promotional campaigns about energy efficiency to improve communities' awareness.
At the end of March 2022, EVNNPC requires utilities to strictly follow the schedule, ensure the stability and safety of the grid's operation, and diminish incidents. Furthermore, project management boards and power companies urgently pushed consultants and constructors to mobilize every possible resource to accomplish projects on time.
The demand Responses (DR) Program is designed to ensure the achievement of goals and contents of the National Program on Demand Side Management for the period of 2018-2020, vision to 2030 approved by the Prime Minister, according to Decisive No. 279/QĐ-TTg dated March 8, 2018.
The Program promotes power consumers to actively lower their power demand from the national electricity system when needed which contributes to avoiding the peak demand, alleviating extremely high pressure, and improving the economic effectiveness of the power system.
According to EVN, each enterprise could save about 1% of power costs by joining the program. Requirements of participants are having power consumption from at least one million kWh per year, equipped remote control electric motors that transmit data every 30 minutes, capacity to reduce power use within 30 minutes when informed by EVN, capacity to actively decide by themselves the load volume to stop or reduce and select production lines for taking appropriate initiatives.
Minh Khuê edited. Giang Nguyễn translated.