From the beginning of 2022 until now, the global energy crisis has occurred unpredictably and complicatedly. Sometimes, oil prices ramped up to more than USD 130 per barrel, making energy supply become an urge and hardship.
Due to the situation, using energy efficiently is considered an integral approach to meet the power demand of the whole society and economy. Besides, energy efficiency also plays an essential role in preserving Viet Nam's energy resources, environment conservation and greenhouse gas reduction, which contributes to the climate change adaptation pathway of the globe.
One feasible approach to energy efficient use, consulted by the MOIT, is consuming energy-labeled products and equipment, especially ones having highest-energy-performance labels.
Energy-labeled products are designed to meet the obligatory energy-efficient standards. By scanning energy labels, consumers acquire information about indicators and energy-saving capabilities, which help them make smarter choices of high-energy-performance products.

Three kinds of available energy labels: recognized energy label (triangle label), comparative energy label (rectangular label) and highest-energy-performance label (mixed label with the year of certification)
According to MOIT's surveys, over 85% of consumers use energy-labeled products or have interest. More than that, many consumers are ready to spend more on energy-efficient products. This is a positive sign of people's awareness raising on energy efficiency.
However, to boost energy efficiency more, Deputy Director of Energy Efficiency and Sustainable Development Department Trịnh Quốc Vũ said customers need to distinguish the differences between labels in order to make appropriate choices for their needs.
"Currently, there are three types of energy labels. Recognized energy label indicates that the product meets the minimum energy efficiency standard to circulate in the market. The second type, comparative energy label, shows the product's levels of energy efficiency, ranking from one to five, symbolized by energy stars. More stars, more efficiency. The last one, the highest-energy-performance label, helps consumers distinguish the best-performing ones. The product' indicators of energy consumption and energy-efficient capacity will be viewed by scanning the QR code available on its label.", Mr. Trịnh Quốc Vũ said.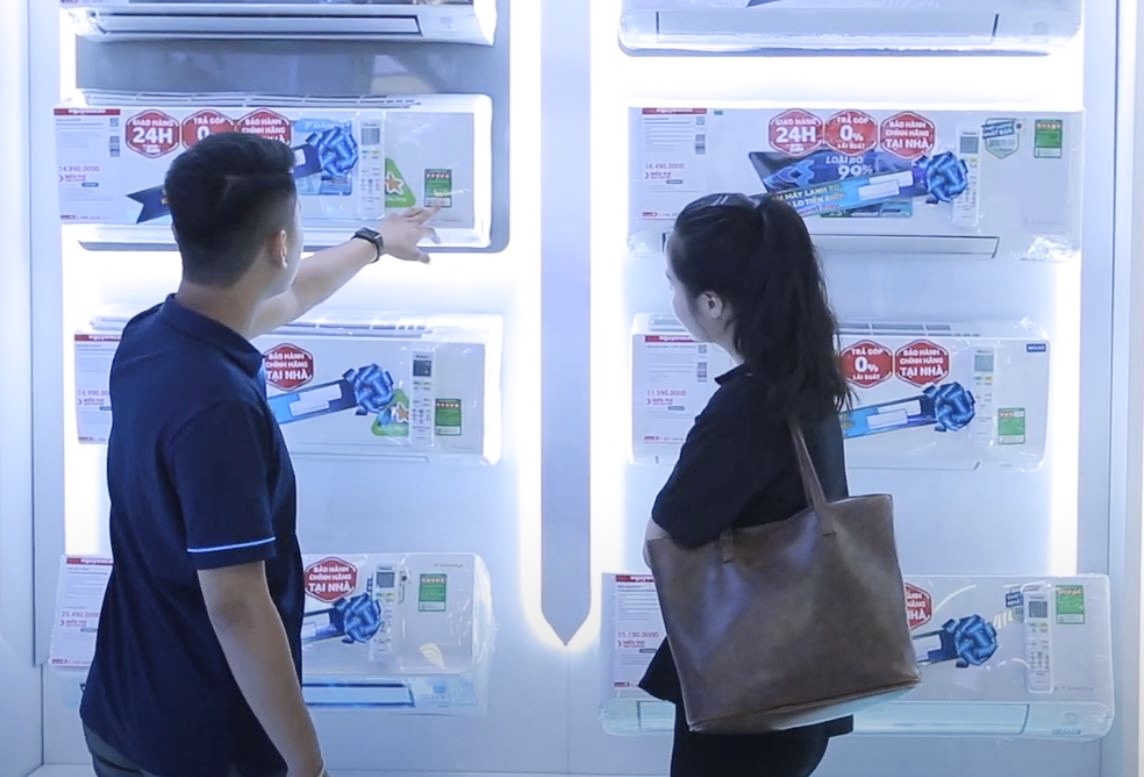 Consumers' interest in energy-labeled products has increased.
According to experts, consumers should carefully consider their needs to make the right decisions. For example, a refrigerator with a capacity of 120-150 liters fit the needs of four-member to 5-member households. Similarly, an under-15-meter bedroom solely needs a under-9000-BTU air conditioner. Besides, consumers should consider the certification process to make appropriate choices.
Energy efficiency use has become increasingly important, especially in the context of dramatic changes in energy globally. Energy efficiency not only helps consumers and enterprises reduce costs but also alleviates the pressure of power supply.
Viet Nam's energy labeling and minimum energy performance management program started with a voluntary mechanism in 2011, then became a compulsory mechanism in 2013. Within the program, 50 national standards on energy performance were established. They set standards for 19 types of electronic gadgets, including four main types: household applicants, industrial equipment, office equipment, and means of transport.
According to Deputy Chief Officer of Steering Committee of Energy Efficiency Đặng Hải Dũng, MOIT is reviewing the current standard system and its infrastructure. In the coming time, six additional products will likely be included in those programs' product management list. Focal products include induction cookers, infrared cookers, VRV air conditioners, LED bulbs and some others. The list of additional products is in research and will be proposed to the Government soon. New regulations of products is expected to be announced by 2025.
Minh Khuê edited. Giang Nguyễn translated