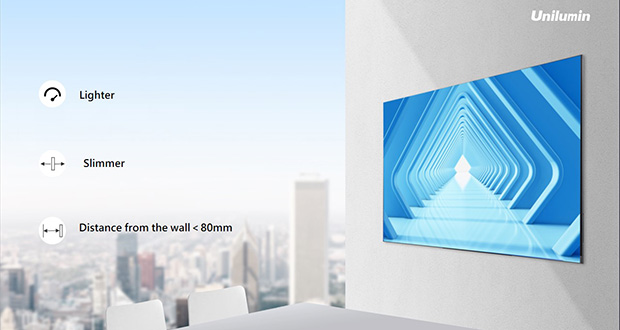 Photo: Unilumin
Recently, Unilumin launched the third generation of UHW series LED display – the cutting edge narrow pixel pitch indoor LED product for professional use. It's an important breakthrough that can bring the LED industry into a more energy-saving and greener era, and can provide an unrivalled experience for users, breaching new frontiers in ergonomics and convenience of use.
Highly energy-saving for a greener world

UHWIII has a significant advantage in reducing energy consumption to make the environment cleaner and more sustainable. Press the button on the remote control to immediately switch the LED display to sleep mode. And click again. After two seconds, the display is fully activated, simple and convenient. What's more, in sleep mode, it consumes just 6 kWh in a whole night for every 20smq display, which means saving 9 tons of carbon emissions every year, equivalent to the amount absorbed by 500 trees.
Excellent performance on visual clarity and colour uniformity

A cutting-edge LED display is inconceivable without premium picture quality. In that respect, UHWIII ticks all the right boxes with an ultra-wide viewing angle, high refresh rate, and uniform details such as the grayscale, colour temperature ranges and high contrast.
The high refresh rate of 3840Hz provides a smooth watching experience with clear images, no moiré effect, and without any distortion. The wide viewing angle (H160° / V160°) covers a larger viewable space and enables more viewers to experience the stunning details.
Moreover, the high grayscale of 16 bit, adjustable colour temperature ranging from 2,000 to 9,000K, high level of contrast of 5000:1–all these golden standard features come in handy in providing impressive quality of the image and excellent performance.
Remote control and easier use

Apart from sleep mode, what makes UHWIII different is the ergonomic remote controller and easy operation with just one button click. Users can easily have dehumidification, brightness adjustment, colour gamut switching, factory reset and turning on/off at their disposal all the time.
Multiple protections to secure every mission-critical task

Unilumin has developed a multiple protection function to manage overall operating status to safeguard every mission-critical task. The smart module provides users with spot checks – people can easily figure out what's wrong with the display. They can also monitor many parameters such as temperature, humidity, smoke and voltage. And the module level overcurrent protection and short circuit protection can make users worry-free when unexpected things happen like a sudden short circuit.
By AV Magazine