The above statement was made by Prime Minister Pham Minh Chinh in his pre-recorded speech at the forum "Russian Energy Week" for the fourth time, held in Moscow (Russia) from October 13 to October 15. Russian Energy Week International Forum is an important energy event, organized at the initiative of the Russian Government since 2017.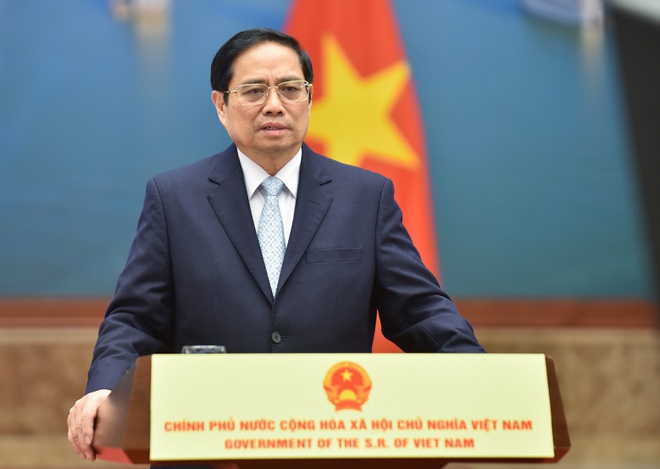 Vietnam's national electricity development planning in period of 2021-2030, vision to 2045 is to diversify energy sources, reduce fossil energy with a roadmap towards sustainable development. Photo: VGP
This year, the forum was held with the theme "World Energy: Transformation for Development" with the participation of more than 1,000 delegates, including leaders of many countries, international organizations and corporations in energy.
Aware of the importance of restructuring energy sources towards increasing the proportion of renewable energy, Prime Minister Pham Minh Chinh informed the forum about the National Power Development Plan for the period 2021- 2030, with a vision to 2045. Accordingly, the orientation of Vietnam's energy source structure in the future will diversify energy sources, focusing on developing clean and renewable energy sources.
"For fossil energy sources, Vietnam has a roadmap to proactively reduce towards sustainable development, reduce carbon emissions, strongly develop gas thermal power and use energy efficiently." Prime Minister affirmed.
Referring to the imprints of friendship and cooperation between Vietnam and Russia (Hoa Binh Hydropower Plant, Uong Bi Thermal Power Plant), the Prime Minister always cherishes the good traditional friendship with the Russian Federation and affirmed Oil and gas cooperation is an important pillar of the comprehensive strategic partnership between Vietnam and Russia. These successes are the premise for Vietnam and the Russian Federation to expand cooperation in the fields of new energy, renewable energy, green and clean energy.
Facing the context that the world is suffering from the synergistic effects of the Covid-19 pandemic, climate change and the decline of natural resources, Prime Minister Pham Minh Chinh once again emphasized the need for a global approach which is inclusive, equitable and mutually beneficial manner. The strengthening of international cooperation between countries plays a very important role in ensuring energy security, sustainable development, minimizing impact on the environment and for the common interests of the international community.
The Prime Minister affirmed that Vietnam will continue to improve institutions, policies and laws to support the development of the energy industry; encourage the promotion of public - private cooperation mechanisms; continue to create favorable conditions for businesses of the Russian Federation and other countries to invest and do business in the energy field in Vietnam.
Finally, highly appreciating the forum "Russian Energy Week", the Prime Minister said that the forum will contribute to strengthening dialogue and cooperation between countries, especially public-private cooperation in the development of the energy industry efficiently and sustainably, for the mutual benefits of nations and all mankind.
Ha Tran