On June 25, 2015, in Hanoi, the signing ceremony was held for cooperation agreement between the Embassy of Denmark and three banks: Techcombank, BIDV and SCB. These are lenders to participate in the Green Investment Facility (GIF) program under the Low Carbon Transition in Energy Efficiency Project (LCEE Project).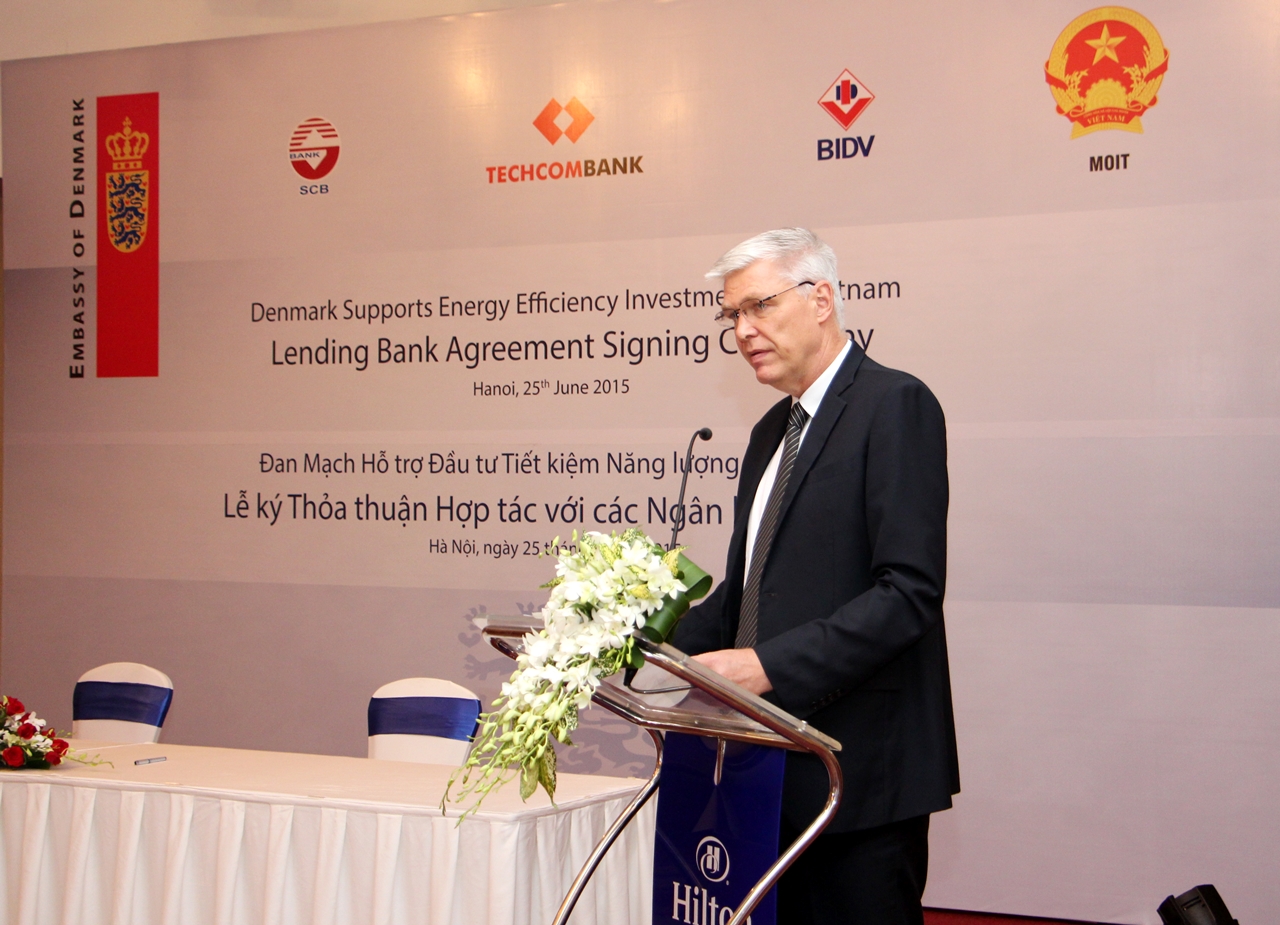 Speaking at the ceremony, Ambassador of Denmark, HE John Nielsen said in recent years, Vietnam has been challenged by increasing demand for energy. SMEs using old production method, outdated equipment, are consuming huge energy. Those enterprises are loading more burden on the economy, as well as exerting negative impact on the environment. Meanwhile, many companies have not paid proper attention to investment into energy savings, or they have the investment needs but find it difficult to access the loans.
The signing ceremony of cooperation agreements with the lending banks provides opportunities for SMEs to receive financial assistance for investment in energy saving. The Danish Ambassador also expressed hope that, by 2016, the project would extend its support to 150-160 enterprises.
Mr. Nguyen Viet Son, Deputy General Director of Energy Department expressed his delight at the signing ceremony. He thanked the Embassy and the Danish Ministry of Climate, Energy and Building for the support to Vietnam in coping with climate change and energy saving activities.
He said: "The signing ceremony of the cooperation agreement between the Embassy of Denmark and the lending banks will start the realization of Green Investment Facility program, with practical support to SMEs investment in upgrading their production lines, improving the business efficiency, to help reduce energy consumption and improve the reliability of national energy security."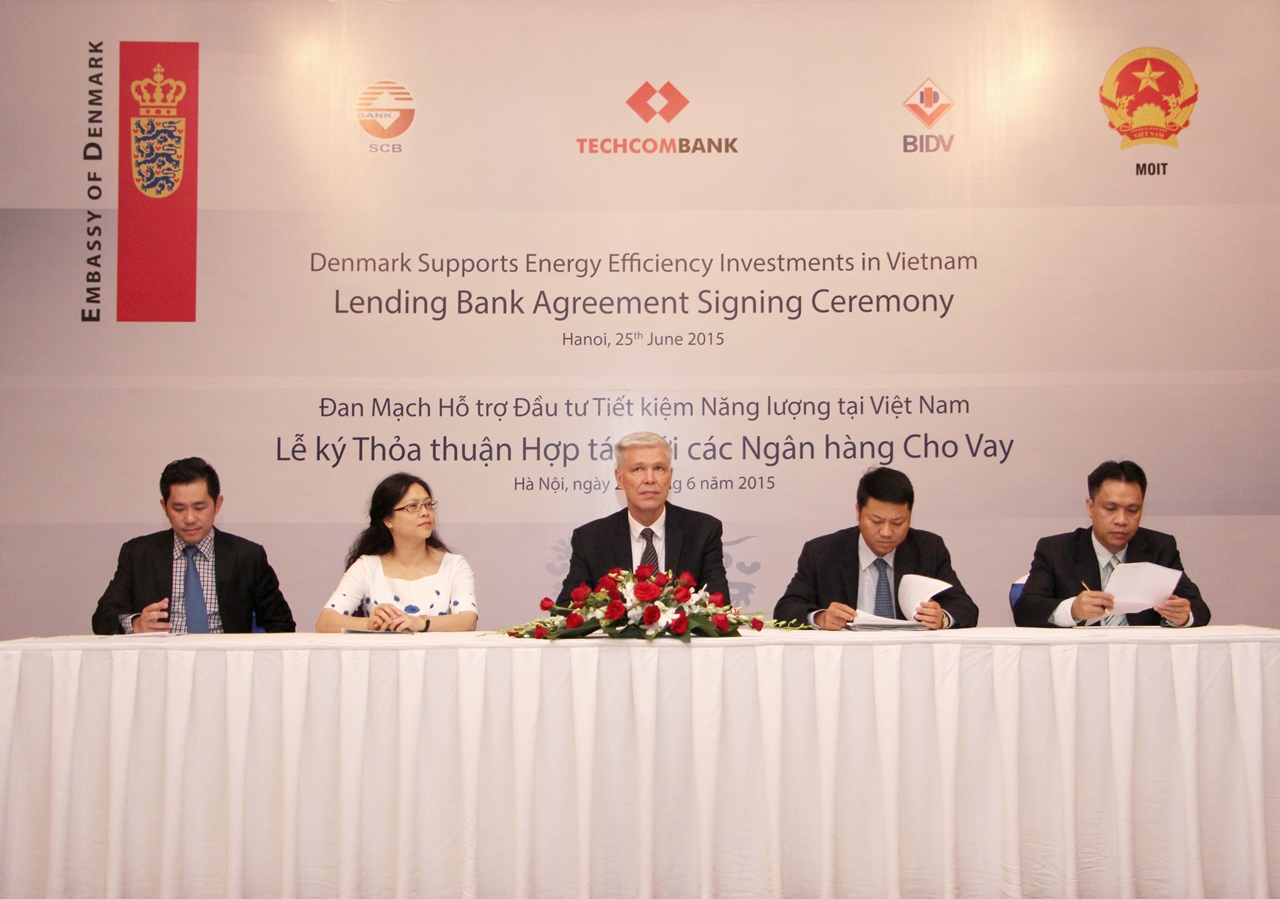 After the successful signing ceremony, Ambassador of Denmark, representatives of the Energy Department and the three banks co-chaired the open discussion to answer the audience's questions.
When asked to assess the borrowing requirements of SMEs in Vietnam, Ambassador of Denmark, Mr. John Nielsen said that Denmark had seen strong demands from businesses. Many SMEs in Vietnam had difficulty in getting the loans, as well as access to loans. Therefore, the Ambassador hoped the support from Denmark would open up the access to finance, making it easier for businesses.
Mr. Amanarth Reddy, Senior Advisor of LCEE Project complemented that up to the present time, approximately 90 companies had made contact with the Project for financial support. Of these, 20 companies had been instructed to complete the dossier and 8 companies were under consideration for an approved loan.
The LCEE project also takes initiative in promotion and access to Vietnamese SMEs through local business associations, local governments and energy saving products or services providers.
Representatives of lending banks also commented that the banks would receive benefits from participation in GIF Program. The biggest benefit is the closer link between businesses and the bank, in a joint efforts for investments into energy efficiency. On the other hand, through these activities, the banks and businesses will contribute to raising the awareness of the public about energy efficiency, energy saving and environmental protection.
Trong Tan