In accordance with the communication plan 2015 and the plan "Pink Holidays 2015" on promoting the Safe- Economical- Efficient use of electricity, targeting at the people, pupils and students who live and study in the area of Ho Chi Minh City, HCM city Power Corporation held a series of communication programs for primary school students at the Office of Public Communication at No. 1 Phan Dang Luu - Binh Thanh District, on saving energy.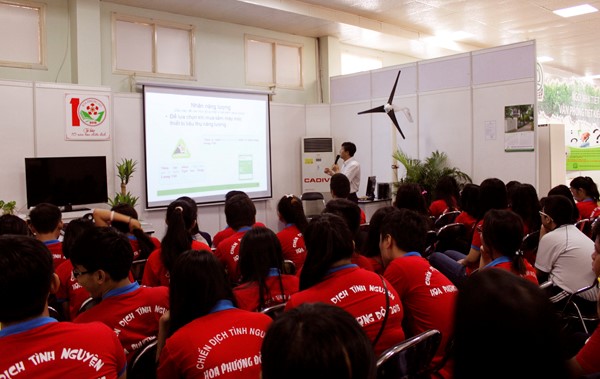 In the program, the students are introduced into brief basic knowledge about electricity such as electrical energy generation, electrical energy sources, through the visual models, which are made lively, comprehensible, and attractive, calling for the pupils' attention and desire for cognition.
Also, the pupils are led to information booths in the Office of Public Communication with messages about safe and economical use of energy. Each booth contains displayed information to help pupils supplement knowledge about the use of power, what should be the correct use and what should be the efficient use. Apart from that, the models at each booth help the pupils better visualize the functions of electrical equipment, with a clearer comparison of the performance of various types of energy-saving devices, currently being in use.
The communication program actually provides useful and interesting knowledge of electricity, contributing to establish the habit of economical use of energy for the children. Because, it is understood that children are the future of the country, communication with the children is a part of building the country to shape a more prosperous future, "with development on a par with the major powerful countries in the world" as it was taught by late Uncle Ho.
Trong Tan