A conference to evaluate the performance of power supply and energy saving in 2015 and kick off plan for 2016 was held by Hau Giang Power Company (PC) with the presence of Vice Chairman of Hau Giang Province People's Committee, Mr. Trinh Xuan Thanh.
Speaking at the conference, Mr. Trinh Xuan Thanh praised Hau Giang PC and Trade and Industry Department for their achievements in the management of power supply and electricity saving.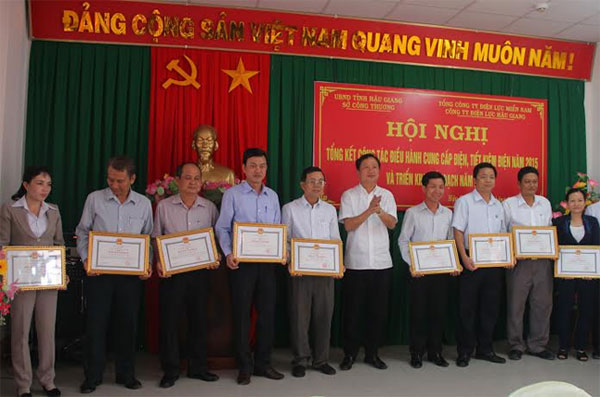 Outstanding individuals and groups were given certificates of merit by Mr. Trinh Xuan Thanh
In 2015, Hau Giang PC introduced ample activities to encourage local residents to use electricity safely, economically and efficiently. Some programs producing significant results included "Power saving villages"; "Country Road Lightening" in which LED lighting systems were installed in many areas. Additionally, Hau Giang PC cooperated with governmental agencies to encourage officers and workers to carry out power saving activities. The company also promoted LED, compact bulbs and solar heaters among local households.
As a result, last year, Hau Giang saved 12 million KWh of electricity, 118% higher than its original target. At the conference, 27 individuals and groups with outstanding results were given certificates of merit by People's Committee.
Thanh Phong