The energy labeling program is a state management measure to promote the use of high-performance equipment, gradually phase out outdated technology products, towards building a sustainable consumption culture in the community.
Mr. Dang Hai Dung - Deputy Chief of the Office of Sustainable Production and Consumption - Department of Energy Efficiency and Sustainable Development, Ministry of Industry and Trade informed about solutions to improve the efficiency of energy labeling activities in Vietnam.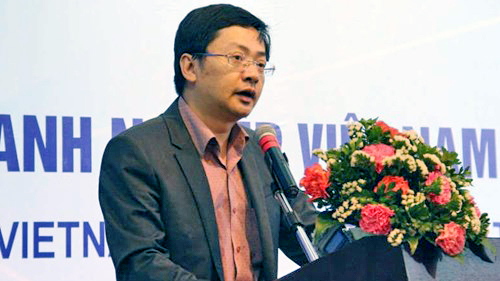 Mr. Dang Hai Dung - Deputy Chief of the Office of Sustainable Production and Consumption - Department of Energy Efficiency and Sustainable Development, Ministry of Industry and Trade
Could you be more specific about the purpose of energy labeling?

Mr. Dang Hai Dung:
On March 13, 2019, the Prime Minister issued Decision No. 280/QD-TTg approving the VNEEP for the period of 2019 - 2030. The program has been and is being approved by the Ministry of Industry and Trade actively and synchronously implements activities in the field of economical and efficient use of energy, with the goal of achieving energy savings of 5.0 to 7.0% of the total national energy consumption in the period from 2019 to 2025, and from 8-10% of the total energy consumption of the country in the period from 2019 to 2030.
To achieve the set goal, one of the key tasks in the management of energy efficiency of vehicles and equipment consuming large amounts of energy is set by the Government within the framework of VNEEP. That is the program to transform the market into energy efficiency of energy-using vehicles and equipment - the program of energy labeling.
The goal of the Program is that by 2030, the whole country would save about 10 trillion VND ($480 million) in cumulative consumption, equivalent to reducing 34 million tons of carbon emissions. This means savings of about 6,000 GWh/year, equivalent to two 500 MW coal-fired power plants.
The energy label is an effective tool to orient consumers towards the use of high-performance vehicles and equipment, gradually eliminating those with outdated technology, reducing energy consumption in production, trade and consumption.
The energy labeling program will create pressure to motivate manufacturers to always strive and apply new technologies in production to bring to market high-efficiency and environmentally friendly products. In addition, for business units and equipment importers, priority will be given to trading and distributing products that meet or exceed the prescribed energy efficiency standards and ensure the parameters stated on the label, contributing to market-oriented part, helping consumers to choose the right energy-saving products with desired energy efficiency on the current market.
The energy labeling program was evaluated very successfully, forming the habit of consuming high-efficiency products. How does the Ministry of Industry and Trade implement this activity?
Mr. Dang Hai Dung:
Energy labeling activities in Vietnam have been implemented in a voluntary manner since 2008 and are compulsory (for some vehicles and equipment) from July 1, 2013. To date, the Energy Labeling Program has achieved some remarkable achievements. Currently, every year there are 10,000 new product codes of 26 types of equipment that have been labeled with energy from 01 star to 05 star. The program has removed about 45 million incandescent light bulbs (over 40W capacity) annually from the market, increasing the efficiency of 06 popular types of electricity consumption products including transformers, air conditioners, electric rice cookers, fans, fluorescent tube, CFL. In which, it is worth noting that the efficiency of using air conditioners increases every year, and it is estimated that the amount of electricity saved every year thanks to consumers switching to buying and using high-efficiency air conditioning products is about 100 million kWh/year.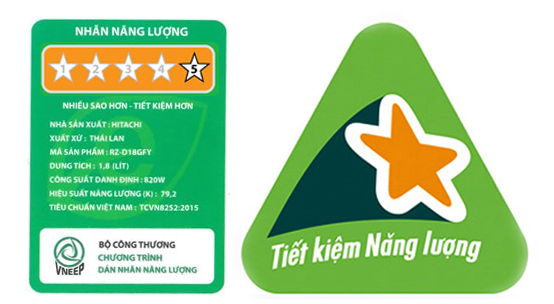 Vietnam applies 2 types of energy labels: certification label and comparison label
Currently, the energy label has created a habit of consuming and purchasing high-efficiency and energy-saving products. Previously, when consumers chose to buy products only based on price and design, now they proactively learn about technical information and energy consumption to choose products because this affects directly to economic benefits during use. By increasing consumer awareness, the Energy Labeling Program has created a drastic transformation in energy efficiency in the market.
With millions of high-efficiency energy-using products widely used in daily life, they will combine into great savings, bringing high economic efficiency to the whole society.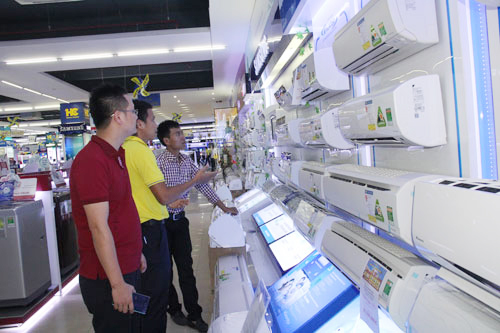 Consumers are showing more and more interest in energy-saving products
So how will the roadmap for implementing energy-saving labeling in the following years be implemented, sir?
Mr. Dang Hai Dung:
The energy labeling program is implemented on the basis of building a system of national standards on energy efficiency for products with large energy consumption in the market. This performance standard system is the basis for enterprises to declare energy efficiency on vehicles, equipment and products when circulating on the market. The energy efficiency standard system is periodically reviewed and revised once a year according to regulations. Up to now, on the market, there are 4 groups of subjects applying labeling, including: (1) Household appliances, (2) Office and commercial equipment, (3) Industrial equipment, (4) Group of means of transport.

- Household appliances group includes: Straight tube fluorescent lamps, compact fluorescent lamps, electromagnetic and electronic ballasts for fluorescent lamps, LED lamps, storage water heaters, air conditioners, refrigerators, washing machines, rice cookers, electric fans, televisions...
- Group of office and commercial equipment includes: copiers, computer monitors, laptops, printers, commercial refrigerators.
- Group of industrial equipment includes: Distribution transformers, electric motors.
- The group of means of transport includes: motorcycles, mopeds, and cars (7 seat type or less).
In the coming time, the labeling implementation roadmap will continue to target energy-consuming products in large quantities. Accordingly, in 2021, the Ministry of Industry and Trade is coordinating with manufacturers, research institutes and the Ministry of Science and Technology to develop a roadmap to apply energy efficiency standards to a number of energy-consuming products on the market, publish national standards on energy efficiency for 06 products. Potential products are products that are widely used, consume a lot of energy such as desktop computers, power adapters, induction cookers, electric stoves... All of them are being researched and evaluated by the authorities carefully.
In order to further promote the trend of consuming energy-saving products, and orient the market development of products with higher energy efficiency, from 2020 the Ministry of Industry and Trade has launched the Highest Energy Efficiency Product Award. The program initially promotes manufacturers to bring to market energy-using products with outstanding features and high energy efficiency (above 5 stars). Products with the highest Energy Efficiency Labels issued with QR codes when circulated on the market are certificates of outstanding energy-saving products.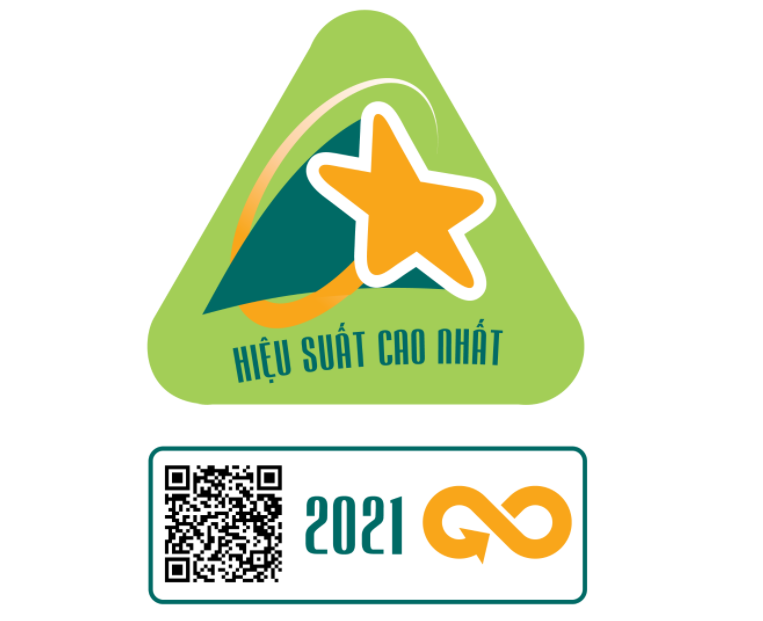 Highest energy efficiency label with its QR code
What solutions does the Ministry of Industry and Trade have to promote energy labeling activities in the coming time?

Mr. Dang Hai Dung:

After 8 years of implementing the Compulsory Energy Labeling Program, there has been a strong transition in energy efficiency in the market so far. However, in order to improve the efficiency of energy labeling activities, it is necessary to synchronously deploy the following groups of solutions:

Continue to improve legal documents and administrative documents: On the basis of the Law on Efficient Use of Energy, it is necessary to continue to review, supplement and perfect the system of administrative documents to actually put the legal provisions into practice. In particular, it is necessary to make appropriate policies on technology (to gradually eliminate low energy-efficient technologies from the market and promote high-efficiency technologies, continue to add a number of groups of suitable products and equipment on the labeling roadmap for the period 2021-2030), in addition to activities to encourage and support businesses in the implementation of the Energy Labeling Program, in the coming time, activities such as inspection and supervision by State management agencies will be strengthened. State management agencies will inspect and supervise the compliance with regulations on energy efficiency of units and enterprises supplying products to the market.
Supplementing and perfecting technical and technological standards: Energy efficiency and technology standards need to be revised, updated, and gradually improved according to the level of domestic technology development in order to gradually integrate with regional and global standards.
Promoting propaganda and widespread dissemination of information about energy-labeled products to consumers and businesses: One of the decisive factors for the success of energy labeling activities is raising awareness and interest of consumers so that they actively choose to buy energy-saving products, not just concerned about price or brand as before.
Strengthening international cooperation: In the context that Vietnam does not undergo much experience and resources to implement energy saving activities and energy labeling as desired, the help and support of international organizations plays an extremely important role as a lever to promote the development of the market for highly efficient equipment and energy labeling programs in the country.
Thank you for your sharing!
Ha Tran