According to a report from EVN, the large power projects planned for electricity generation this year comprise the hydropower plants of Lai Chau, Huoi Quang, Trung Son, Song Bung 2 and thermal power project of Duyen Hai 3. Apart from those projects, there are also such key projects as the thermal Duyen Hai 3 expansion, Vinh Tan 4, Pacific 1, Da Nhim hydropower expansion, and Thac Mo expansion to be put into operate this year.
The total capacity output this year is thus estimated at 3,893 MW, comprising of 2,081 MW from hydropower and 1,380 MW from thermal power.
Mr. Khuong The Anh, deputy director of Son La Hydropower Company reveals that it is expected by the end of June 2016, the Generator Unit 2 (400 MW) of Lai Chau Hydropower Plant (at an upstream location180 km from Son La on the Black river) will be operational, and by the end of 2016 and Generator Unit 3 (400 MW)will be operated additionally bringing the designed capacity of all 3 generator units of Lai Chau hydropower plant to a total of 1,200 MW into the national grid.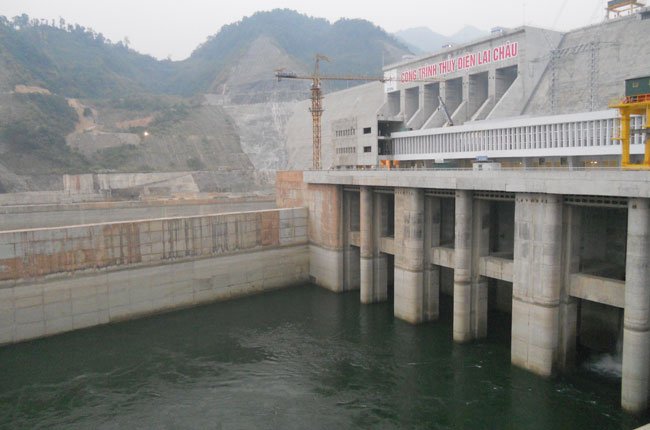 Three turbine generators of Lai Chau Hydropower Plant will operate by year-end
Previously, in December 2015 the Generator Unit 1 of Lai Chau Hydropower Plant generated electricity after nearly five years of construction. Lai Chau Hydropower Project has an investment of VND35,700 billion for 3 generator units with a total capacity of 1,200 MW, and it is considered as the third largest hydropower project in Vietnam to feed the national grid with about 4.7 billion kWh per year.
Currently, the existing hydropower plants in Central, the Highlands and Southern area are facing many difficulties due to severe drought. EVN reveals that most of the water levels in hydropower reservoirs in the aforementioned areas are lower than the average value for many years, during which many reservoirs get relatively low flow intake compared to the average intakes of many years, such as reservoir in Ban Ve, Hua Na, Cua Dat, Quang Tri, Binh Dien, A Vuong, Dak Rinh, Ka Nak, H'Nang, Pleikrong, Ialy, Ham Thuan, Dai Ninh, Dong Nai 3, Tri An, and Thac Mo.
The total amount of water intake in hydroelectric reservoirs in Central, the Highlands and Southern area is currently nearly 3.3 billion m3, which is a lack of almost 1.9 billion m3 as it should be.
Facing the severe drought in the dry season this year, EVN rationally utilizes the hydropower resources, and mobilizes the power supply from coal, wind electricity, thermal electricity generated by gasoline to avoid electricity shortages.
The priorities focused by EVN are the coordinated plans for the use of water in the hydroelectric reservoirs: so as to ensure water for daily life, domestic services, then to the livestock, agriculture, fisheries, environment, sanitation, prevention of outbreaks, industrial production, and finally electricity production.
Trong Tan