Kyocera Solar has announced the completion of a 284-kilowatt (kW) solar energy project for Hawaii Tokai International College (HTIC) in Kapolei, Hawaii. The project is expected to meet more than 50% of the College's total electric power requirements, based on projected use. The project is the latest example of Kyocera's in-house Power Purchase Agreement (PPA) program enabling universities, school districts, towns and other entities to enjoy the benefits of solar energy with zero up-front costs.
In April 2015, based on a globalization initiative between University of Hawaii and Tokai University, HTIC opened its new campus within the campus village of University of Hawaii-West Oahu. To contribute to the Hawaii Clean Energy Initiative, which targets an increase in the state's renewable energy portfolio to 70% by 2030 and 100% by 2045, HTIC's campus buildings are eco-green-designed and constructed to be energy, water and resource efficient.
Kyocera was involved from the early stages of new campus development. Kyocera's rooftop solar modules, installed by Sunetric, transform the abundant sunshine into cost-savings at a predetermined fixed cost-per-kilowatt hour (kWh) for the entire 20-year term of the PPA.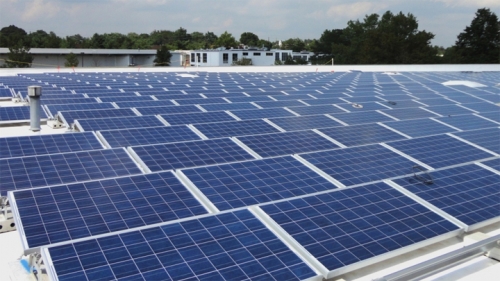 The solar panel system includes high-efficiency Kyocera solar modules and SMA Tripower inverters, transforming the sun's energy into 400 megawatt hours (MWh) of clean energy per year - enough to offset the use of 31,000 gallons of gasoline and prevent 304 tons of carbon dioxide1 emissions. With the solar energy system fully operational, the campus is anticipated to be the first LEED-certified, multiple-building campus in Hawaii.
Other energy saving measures include LED lighting for interior and exterior fixtures, efficient VRF air conditioning systems with individual controls for each space, high-performance windows and a building energy management system. The collective measures are estimated to reduce the campus buildings' energy usage2 by 35%.
"We're surrounded by natural beauty in Hawaii and feel a strong responsibility to be good stewards of these beautiful islands, but we also pay some of the nation's highest electricity rates," said Takuya Yoshimura, Chancellor of Hawaii Tokai International College.
"Working with Kyocera, we are able to reduce the campus's energy costs long-term with zero up-front costs and help the environment. This project will also benefit our students by stabilizing our energy costs for decades to come and providing educational opportunities."
"Kyocera's PPA program delivers our highly reliable, efficient solar energy solutions to universities and other entities without up-front costs," said Hitoshi Atari, President of Kyocera Solar, Inc.
"Some businesses focus on minimizing the cost per-watt in a solar installation, but the cost of financing also has a significant impact on the customer's cost per-kilowatt-hour. The unique combination of Kyocera's 40-year history in premium solar products, systems engineering expertise and attractive financing offers an unbeatable solution."
Kyocera Solar, Inc. can offer in a PPA its full turnkey solar energy systems with industry-leading reliability, at very competitive rates. Kyocera's in-house financing programs also include a 1.6 megawatt (MW) installation for the Madison School District in Phoenix, AZ and a 175-kilowatt installation for the Town of Parker, AZ.
Solardaily.com