With an investment of $7.4 billion in wind and solar power, Vietnam has the potential to become a major renewable energy producer in the world.
The above information was said by Mr. Weert Börner, Deputy Ambassador, Head of Economic Department of the German Embassy during the renewable energy exhibition organized by this agency together with GIZ (German International Cooperation Organization), in the morning of April 23.
Weert Börner cited 2020 data showing that China is the world's largest investor in renewable energy with 83.6 billion USD, followed by the US with 49.3 billion USD. Vietnam ranks above France and Germany when the amount of investment in renewable energy of these two countries is 7.3 billion USD and 7.1 billion USD, respectively.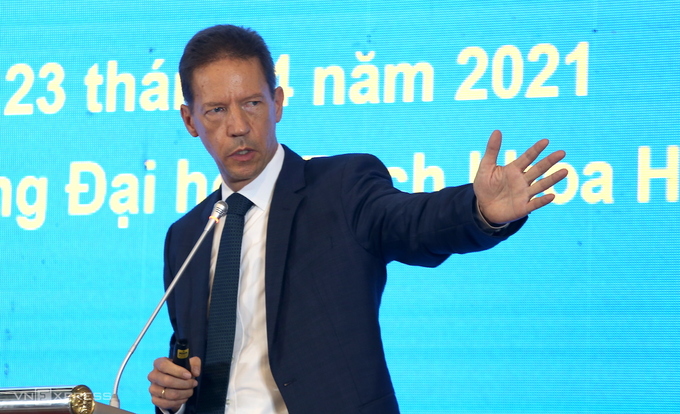 Mr. Weert Börner talked about energy transition. Credit: Gia Chinh
German Ambassador Guido Hildner assessed that, facing the challenge of climate change, the world is in an energy transition phase and Vietnam has a lot of potentials to become a renewable energy power country with solar, wind and biomass power.
He cite, in just 30 years, Germany from zero has reached 46% of total energy as renewable energy and the proportion of coal power has decreased to 18%.
Sharing this view, Mr. Nguyen Duc Hien, Deputy Head of the Central Economic Commission, affirmed that firmly ensuring energy security is the foundation and premise of Vietnam's socio-economic development. In many documents, Vietnam has identified rapid and sustainable energy development, one step ahead associated with ecological environment protection.
Vietnam has determined a specific energy transition direction that the rate of renewable energy will reach 15-20% in 2020, 25-30% in 2045. encourage investment in power plants from urban waste and biomass," added Mr. Hien.
6 benefits of energy transition, according to German experts, include: avoiding energy imports; proactive supply security; improve environmental and human health; create more jobs; stimulate innovation; added value to the region.
"Developing rural electrification can save at least 20% compared to conventional grid electricity. It also reduces the concentration of energy supply and doubles employment in comparison with coal power due to use of local labor," said Mr. Weert Börner.
Ha Tran
Original article: https://vnexpress.net/viet-nam-dung-thu-tam-ve-dau-tu-nang-luong-tai-tao-4267099.html