On October 21, 2015, Expert on energy saving, Dr. Nguyen Van Khai came to Dinh To Commune, Thuan Thanh, Bac Ninh to share and disseminate his knowledge about electricity saving appliances and devices.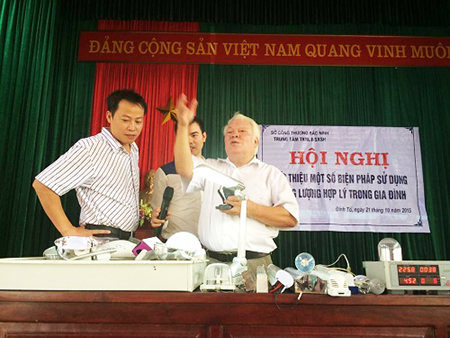 Dr. Nguyen Van Khai introduces power-saving products to Dinh To Commune.
Saving energy in villages in rural areas has been still an untouched domain because it is far from the economic centers, with less information on energy savings. Therefore, many people are still quite indifferent to the subject matter of efficient use of energy.
Besides, as a matter of habits in rural areas, the people still use traditional energy in daily activities such as petroleum lamps, and firewood for cooking.
Therefore, the dissemination of knowledge in households about electricity savings to change the long time practiced habits is an important task, not only to helps farmers save the costs on electricity but also to reduce negative impacts on the environment, while protecting their health.
In the morning of October 21, 2015, the Center of Energy Conservation and Cleaner Production in Bac Ninh, in coordination with Dinh To Commune authority held a workshop on energy use and efficiency savings for households in Dinh To commune, Thuan Thanh district.
Participating in the workshop, the representatives of households met the expert in energy saving Dr. Nguyen Van Khai who taught them on how to use electrical appliances in the house with savings and efficiency.
Through the workshop on economical and efficient use of energy, the Centre hopes that the farmers in Dinh To Commune - Thuan Thanh District would build up an energy conservation habit, and disseminate to the general public in the commune the measures, and perceived knowledge in energy-saving to reduce the cost of living for families, to reduce the pollution, and to contribute to ensuring national energy security.
Trong Tan