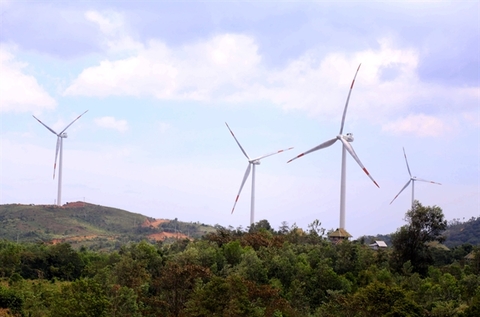 Wind turbines at a wind power project in the central province of Quang Tri's mountainous district of Huong Hoa. As of October 2019, Quang Tri is home to 68 wind power projects with total capacity of more than 3,600 MW
The Viet Nam Energy Outlook Report 2019 revealed enhanced energy efficiency and development of renewable energy at the highest level can deliver large and cost-effective carbon dioxide reductions, and reduce air pollution and dependency on fuel imports.
Such a transition would require early investments in new coal power plants that would reverse the current trend of increasing coal consumption, said Jakob Stenby Lundsager, a long-term advisor of the Danish Energy Partnership Programme, at a press meeting on Tuesday.
He also emphasised energy efficiency to be a priority as results show it was much more cost-efficient to invest in this than in more power plant capacity and that energy efficiency can help reduce carbon dioxide and fuel imports.
The advisor also recommended a stable and transparent framework needs conditions for wind and solar power expansion, including plans and targets, a transparent and co-ordinated approval system for projects (one-stop-shop), and international standard power purchase agreement.
Results showed that a 40 per cent of renewable energy in the power mix by 2030 in combination with energy efficiency was feasible, would not increase costs, and was needed to limit fuel imports, he said.
The advisor finally noted the importance of investments in the transmission grid and electricity storage capacity, which enables integration of maximum renewable energy capacity.
Morten Baek, Danish Permanent Secretary for Climate, Energy and Utilities, added "The Viet Nam Energy Outlook Report 2019 is a landmark in our co-operation within energy modelling."
"It offers solutions to many of the challenges Viet Nam is facing, and could contribute to Viet Nam's Power Development Plan 8."
"New calculations show how Viet Nam can reduce annual carbon dioxide emissions by up to 39 per cent in 2050 compared to existing national plans. That equates to approximately 370 million tonnes carbon dioxide."
"The Vietnamese authorities can rely on the report in realising a green and cost-effective energy transition, whilst reducing dependency on imported fossil fuels."
Earlier, the Ministry of Industry and Trade of Viet Nam in collaboration with the Embassy of Denmark in Viet Nam and the Danish Ministry of Climate, Energy and Utilities organised the announcement of the Viet Nam Energy Outlook Report 2019 in Ha Noi on Monday.
Speaking at the ceremony, Deputy Minister of Industry and Trade Hoang Quoc Vuong emphasised that "Viet Nam is a country that has a relatively fast and high growth rate compared to other countries in the region and world".
The growth rate of gross domestic product (GDP) was 7.26 per cent on average in the 2001-10 period, then down to 5.91 per cent in the 2011-15 period and gradually recovered to 6.14 per cent per year between 2011-18.
In parallel with economic growth, energy that met the economic demand increased accordingly, the deputy minister said.
Energy demand increased by about 10 per cent in the period of 2001-10, electricity demand increased by 13 per cent per year same period and about 11 per cent between 2011-18.
In addition, the deputy minister reviewed and presented research results on power and energy development scenarios and policy recommendations on key issues related to the development of the country's electricity and energy system in the long term.
He also provided information for the building of the eighth Power Development Plan as well as the national energy development plan.
The Viet Nam Energy Outlook Report 2019 is developed by the Electricity and Renewable Energy Authority under the Vietnamese Ministry of Industry and Trade in close collaboration with the Danish Energy Agency and supported by the Danish Embassy in Ha Noi.
This report is a central milestone in the Energy Partnership Program between Viet Nam and Denmark's long-term scenario modelling activities and supports the development of Viet Nam's energy system in a more sustainable way through implementation of cost-optimised policy and planning.
In 2013, Viet Nam and Denmark entered into a long-term co-operation agreement for the purpose of strengthening Viet Nam's transition to a low-carbon economy.
The Danish Energy Agency co-operated with the Ministry of Industry and Trade in Viet Nam through the joint Energy Partnership Programme between the two countries (DEPP).
The programme is currently in its second phase and covers long-term scenario modelling of the energy sector, the integration of renewable energy in the power grid and energy efficiency in the industrial sector.
The first edition of the Viet Nam Energy Outlook Report was published in 2017. This year's report has been taken to a new level, with an updated and enriched modelling and strengthened scenario analysis.
It is expected the Energy Outlook Report will continue to be published once every two years, ensuring that the newest data and model improvements are used to back up decisions and discussions on long-term energy planning in Viet Nam. - VNS