Water giant United Utilities is to install Europe's biggest floating solar power system on a reservoir near Manchester, as it seeks to capitalise on the novel technology to cut its energy costs.
The 12,000 panel, £3.5m development will be only the second of its kind in Britain, dwarfing an 800-panel pilot in Berkshire last year, and will be the second biggest in the world after a scheme in Japan.
Installation of the panels is due to begin on Monday at the Godley reservoir in Greater Manchester, where it will provide a third of the power for a water treatment works. The system is scheduled to be completed before Christmas, in order to qualify for subsidies before they are due to be drastically cut in the new year.
United Utilities' three megawatt (MW) scheme is currently eligible for subsidies of almost 6p per kilowatt-hour (KWh), but ministers have proposed to cut the rate to about 1p per KWh, under plans which have caused widespread anger in the solar industry.
United Utilities is also exploring plans for a second floating solar project near Lancaster, but Neil Gillespie, its director of energy strategy, said it was "doubtful" whether that would go ahead if the subsidy cuts were as harsh as planned. The water giant's use of the floating solar technology at Godley is a coup for Mark Bennett, an entrepreneur who introduced the technology to the country last year with the pilot project on his own farm in Berkshire.
"The savings achievable on energy bills by using solar continue to make it a very attractive infrastructure investment"
Paul McCarren, Forrest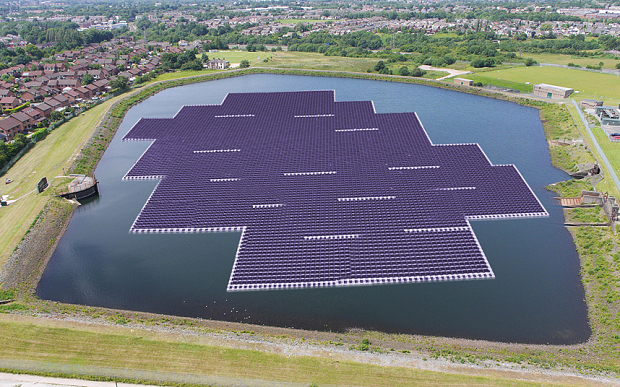 United Utilities is also in the process of installing up to 100 MW of solar panels on its land. It aims to install up to 40 MW in time to qualify for the current rate of subsidy, but Mr Gillespie said it was hopeful it would still be able to proceed with many of the remainder of the projects even if subsidies were cut.
The land-based technology is cheaper than the floating panels.
Paul McCarren, energy services director at Forrest, the contractor working with United Utilities on Godley and several of its land-based solar projects, estimated that ground-mounted solar farms could currently get a 12pc to 14pc return, and that this would still be viable with at least 9pc returns even if subsidies were slashed.
He said there was "a lot of scaremongering in the market" about the impact of the proposed subsidy cuts and his firm still had a "large pipeline" of solar farms planned for installation next year, even in light of the planned changes.
"For large consumers of energy, the savings achievable on energy bills by using solar continue to make it a very attractive infrastructure investment," he said.
Mai Linh