According to the draft, those works registered for Award of Energy Savings and Environmentally friendly features must be the civil construction from grade III or higher, which are commissioned and completed and put into use as prescribed law within the last 3 years by the time of award registration; at the same time, there is no violation of the provisions of law on construction, land acquisition, bidding, work safety, environmental protection, fire control and other related provisions of laws.
Criteria for the award
The works registered for award of energy savings and environmental friendliness is evaluated according to the criteria with a maximum total scoring scale of 100 points.
Among them, the most important criterion is the energy efficiency with maximum scores of 40 points. The criteria for environmental quality inside buildings accounts for maximum score of 20 points. The remaining 4 criteria: Effective use of water, efficient use of materials, workable measures to protect ecosystems, and environmental protection measures has the maximum 10 points for each.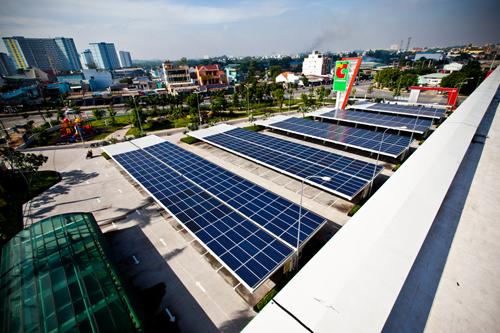 Awards for Energy saving and environmental friendly features will be granted to works which are scored at 75 points or more.
The Energy saving and environmentally friendly Works granted with the award registration will receive a certificate issued by the Chairman of the Reward Council. Besides, the award winning works will be commemorated with a gold medal.
The procedure for Awarding
According to the draft, the owners or managers shall submit 2 copies of its portfolio to the standing agency of award registration (Department of Science, Technology and Environment - MOC) before the September 30. The registration portfolio submitted after the above date will be considered in the following year.
Basing on the evaluation review of the portfolio, and assessment from field work records, the Standing Agency of Award makes a list of eligible works for award consideration and then sends the selected portfolio to the Reward Council. The Reward Council holds meetings for consideration and assessment, the evaluation of the dossiers, then evaluated and recommended by the Standing Agency of Award and the Minister of Construction to make decision on the list of award-winning works.
The list of award-winning works which possess energy savings and environmentally friendly features and the profiles of the owners or managers of the works will be posted on the web page of the Ministry of Construction. The Standing Agency of Award will organize the ceremony when it makes an announcement and grants the award to the selected construction unit after a decision of the Minister of Construction is issued. The Ministry of Construction is now taking comments and/or suggestions about the draft version from Ministry of Construction website portal.
Trong Tan