For the 10th consecutive year, two of Honda's Ohio automobile manufacturing plants have earned the U.S. Environmental Protection Agency's (EPA's) Energy Star certification, while Honda Manufacturing of Indiana achieved the designation for the fourth year in a row.
The Energy Star certification signifies that the facilities perform in the top 25 percent of similar facilities nationwide for energy efficiency and meet strict performance levels set by the EPA. On average, Energy Star certified plants consume 35 percent less energy and contribute 35 percent fewer greenhouse-gas emissions than similar non-certified operations.
"Every Honda facility considers the energy efficiency of its operations, but especially in our manufacturing plants, as these operations can consume so much energy," said Karen Heyob, who leads Honda's environmental sustainability initiatives in North America. "We have found that progress in this area comes when we involve every associate in the process, and not relying on someone with a certain job or responsibility to handle it. When everyone involved considers energy efficiency and how they can help the environment, results improve."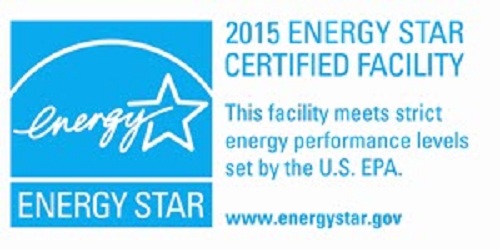 Despite previously earning nine consecutive Energy Star certifications, Honda's auto assembly plants in Marysville and East Liberty, Ohio, continued to find new ways to conserve energy in 2015. The Marysville plant incorporated light-emitting diode (LED) lighting, direct-fired water boilers and high-efficiency heating, ventilation and air conditioning (HVAC) systems when constructing a new 138,000-square-foot consolidation center. The plant also introduced new tow motors and forklifts powered by hydrogen fuel cells that reduced propane emissions. The 2.8-million-square-foot East Liberty plant installed new LED lighting, replaced a large water heater with a high-efficiency model and will have new high-efficiency 1,350-ton chillers in service in 2016.
Honda Manufacturing of Indiana, which is Honda's newest U.S. plant, has been Energy Star certified for each of the last four years. The plant continued its goal of energy efficiency by transitioning to LED high-bay lighting while using Honda's green factory assessment tool to guide the design and construction of a recently completed expansion.
Introduced by the EPA in 1992 as a voluntary, market-based partnership to reduce greenhouse-gas emissions through energy efficiency, the Energy Star label can now be found on more than 65 different kinds of products, 1.4 million new homes, and 20,000 commercial buildings and industrial plants that meet strict energy-efficiency specifications.
Reliable Plant