The SUVs offer a 326 mile range on a single fueling, with water vapour the only tail pipe product emitted

Secured with funding from Transport Scotland, two Hyundai ix35 SUVs have been purchased and will form the central part of the city's car club – an initiative that rents out cars to the public for short period use.

Councillor Barney Crockett said: "Aberdeen is developing a reputation as a 'can-do' hydrogen city. Aberdeen is renowned as an energy city and for being keen to drive forward new energy technologies and work with countries across the world to secure its future as an energy leader.

"With these cars, we are taking things to the next level, moving ever closer to becoming a world-leading renewables city and securing a hydrogen economy in Aberdeen, presenting tangible opportunities to the energy industry."

Aimed at encouraging businesses and the public to use hydrogen as a power source, the SUVs will be available to hire later this year after a successful trialing period. They are able to offer a 326 mile range on a single fueling, with water vapour the only tail pipe product emitted.

The SUVs, unveiled as part of Aberdeen's 'Hydrogen Week', follows on exactly one year after Europe's largest fuel cell bus fleet arrived in the city. The council revealed that over the last 12 months the Aberdeen Hydrogen Bus Project attracted £21m of investment into the city.

The fleet – which replaced 10 diesel-fueled buses – travelled more than 250,000 miles and released no harmful emissions during its 1,600 refuels.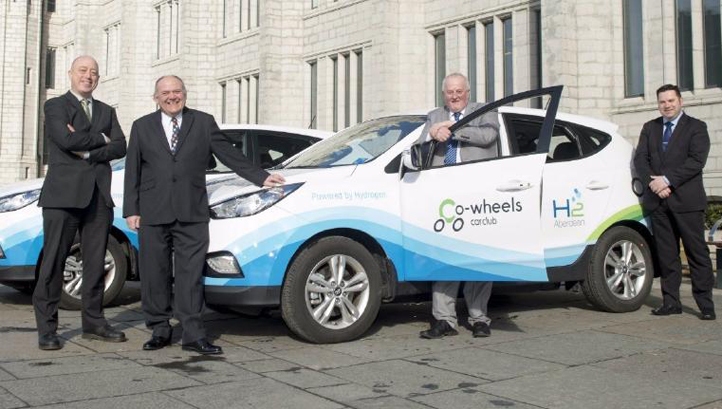 Exemplary progress

Aberdeen's efforts form just a small part of Scotland's substantial transition towards a low-carbon future. The country's projects, which has seen half of its electricity needs sourced from renewables, has been hailed as "exemplary" by UN climate secretary Christiana Figueres.

Speaking to BBC Scotland, Figueres acknowledged the 'impressive' progress that the country had made in creating a sustainable future – most notably the 38% reduction in carbon emissions.

On top of the impressive carbon cuts, the country has also pledged to cut food waste by 33% by 2025. A new £70m circular economy investment fund has also been launched to stimulate innovation and improve productivity to Scotland's manufacturing sector.
Linh Mai (via Edie)