Company spokesperson Anna Wätjen said it is difficult to imagine there being ten days without wind in this blustery region. Their data shows that the coastal regions of Northern Germany have enough wind to recharge the batteries at least every 5-7 days. The first wind powered LED street lamp is being installed on the tiny island of Juist.

Bye the end of the year, there could be as many as ten lamps on Juist and other orders are coming in.

"Due to the wind-data we anaylized, we assume there is a market for about 3000 lamps across coastal areas in Northern Germany," said Wätjen.1

The city of Oldenburg in Holstein, plans to install a dozen this fall and another lamp is going to Stipsdorf, Segeberg.

"Every place that has little sunshine but wind is suitable for the Proceed 1 windgenerator. Other than from places in Northern Germany, we have direct enquiries from places in Sweden and the Netherlands, Spain and Canary Islands, Southamerica (Chile, Argentina), Iran, Southafrica and Namibia," said Wätjen.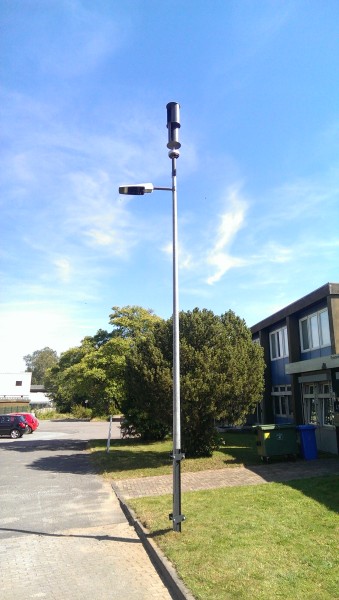 In their sales brochure, it says:
"Think of rural and structurally weak regions in our vicinity and all over the world: Unlit bike- and footpaths between villages and small settlements; wide areas in Africa, South America and Australia, which are, if at all, supplied with loud, smoky fuel generators. Where else: airstrips in the outback, shelters in the mountains, the Lodge on the desert island. There are many alternative solutions for interior lighting, but as a German saying goes: at night it's just darker than outside. Unless you have a PROCEED 1 that illuminates the darkest night self-sufficient and quiet as whisper."

Schleswig-Holstein based designer Peer Langemak and his Noordforce team spent a year developing their product, after discovering that many remote villages still lack adequate lighting.

A similar product, combining wind and solar energy, is in use in Spain's Catalonia region.

Wätjen said solar is not a good solution in Northern Germany because "there is rarely enough sunshine during daytime to power solar cells."

Wind powered street lamps costs less than €4,000 and do not require grid connection.
Linh Mai (The Eco-Report.com)