The company has apparently already managed to nab 4,000 preorders for the product. Considering that the all-inclusive 10 kilowatt-hour (kWh) unit will sell wholesale for around $13,000 and retail for about $16,000, that's a fair chunk of money if all of the orders go through. The system will come with a 10-year, 5,000-cycle warranty, it should be noted.

The CEO of the startup, Chadwick Manning, commented: "We're taking an iPhone approach, where all of these different components are in one box. We create software that allows them all to talk to each other and use all of that information to create an automated, efficient home. We're looking at the home as a microgrid ecosystem rather than component by component."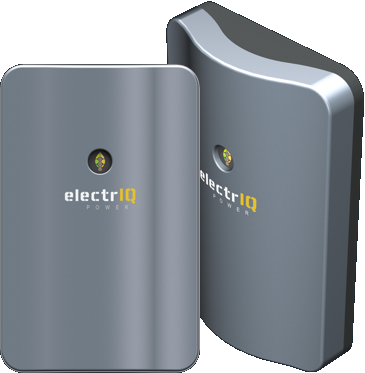 Greentech Media provides more:

The IQ System is paired with a cloud-based dashboard that allows customers to monitor energy use and make informed decisions about their consumption. The embedded software system can also learn usage habits and automate home energy savings.

…Solar companies have shown the most interest. The all-in-one package cuts out suppliers and cuts down installation time for new customers. And because the system integrates in AC or DC, it can serve existing solar customers without the need to upgrade hardware.

…ElectrIQ says its real added value is its software. The IQ System energy meter samples data every millisecond, which allows the system to collect data on everything — down to how many times someone has opened the fridge door. This real-time identification provides insight to customers on how to be more efficient via the online dashboard. The on-board analytics program can also control internet-enabled appliances to automatically lower energy usage.

Rate arbitrage can offer battery customers added value. But unless a customer faces demand charges, the returns are unlikely to be that great, said Manning. That's why, at least initially, ElectrIQ plans to target customers that want backup power and offer them a return on investment through smart controls that improve efficiency.

While the startup has been funded by angel investors to date, it's currently working to close a large venture capital round.
Cleantechnica