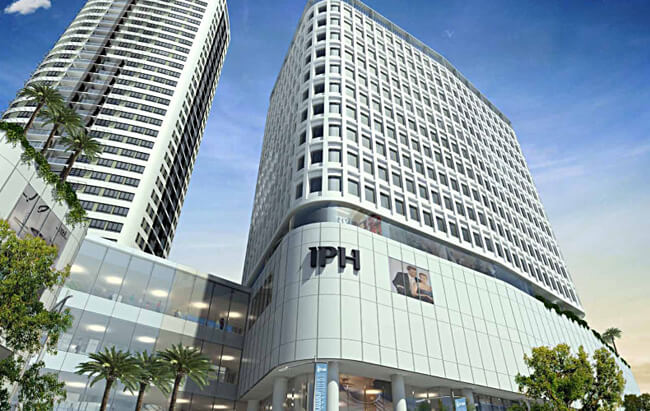 In 2020, the IPH building invested, managed and operated by Hanoi Residential And Commercial Centre - HRCC Limited has won the title of 5-star Green Energy use for the type of key energy-using facilities in construction works in Hanoi. The total energy consumption of the building reaches 1,717 TOE/year on the building floor area of ​​106,193 m2. Along with the design to create green space, make the most of natural light, wind, and air combined with management and technology solutions, in the last 3 years, the energy level that IPH reached 1,319. 468 kWh, equivalent to a saving of 2.5 billion VND, accounting for 10.7% of total energy consumption per year.
Right from the beginning time of construction investment, the building has been designed and used energy-saving materials, 20% of the walls of the building are used with energy-saving glass. Besides, the main type of roof used in the building is reinforced concrete with foam insulation, waterproof layer and poor concrete layer on top. The area of ​​natural ventilation accounts for about 5%.
In order to improve energy management, the building has established an Energy Management Committee with 7 members, one of whom has an energy manager certified by the Ministry of Industry and Trade, has an organization chart of the Energy Management Board, defining the functions and duties of the members of the Committee. Energy-using devices in the building are all enery efficiency labeled ... Solutions have been built and implemented by the Energy Management Committee, bringing high efficiency such as: Turning off appliances when not in use, set working hours, set the air conditioner temperature above 25 Celsius C; The air conditioning system and the cold water pumps, cooling water pumps, AHU fans, and cooling tower fans are all equipped with inverters to adjust consumption accordingly.
Assessing the possibility of energy conservation in commercial buildings, Mr. Nguyen Dinh Hiep, Standing Vice President, General Secretary of Vietnam Energy Conservation and Energy Efficiency Association (VECEA) - said that in buildings, commercial centers, air conditioning systems and ancillary equipment is one of the most energy consuming systems. Currently, in buildings we often encounter a lot of air conditioning equipment being used with old technology, low efficiency, consuming a lot of electricity. The cold water and wind pipeline system has not been properly insulated, leading to large heat loss on the pipeline. From that fact, if these problems can be overcome, the opportunity to save electricity from the air conditioning system is very large and IPH has done a very good job.
Ha Tran