​
Good energy management not only saves costs but also reduces greenhouse gas emissions, which contribute to ensuring national energy security.
Realizing these values, Somerset West Point Hanoi Building (SWPH) has applied various energy-efficiency solutions. Based on those efforts, SWPH was awarded the third prize of "Energy Efficiency Awards 2021" by the Ministry of Industry and Trade (MOIT) and the Vietnam Association of Science and Technology for Economical and Efficient Use of Energy (VECEA) under the New construction catalog.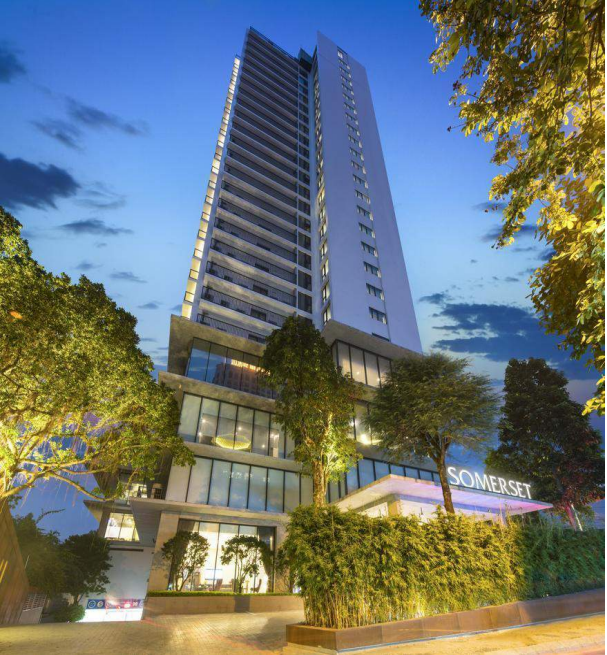 Somerset West Point Hanoi Building.
SWPH is a project of the Golden Villa Co., Ltd. whose main function is to rent luxury apartments in the West Lake area. This is a high-class serviced apartment project completed and put into use in 2017 with a total construction floor area of ​​32,800m2.
To provide customers with the most luxurious serviced apartment while saving operating costs, SWPH has applied various energy-saving solutions. Like investing in six Konnen heatpumps with a capacity of 17.2kW.
Mr. Nguyen Xuan Duc, Chief engineer, said, "They are among the most optimal types of water heating. In addition to providing hot water for the whole building, the system cold air is also used to cool down areas such as: air conditioner system, engine room,...hence it helps significantly reduce energy consumption".

Heatpump hot water supply system
Moreover, SWPH also installs VRV central air conditioning system using gas as refrigerant; six Mitsubishi elevators equipped with inverters; use inverter exhaust fan system and double-layer soundproof and heat-insulating box glasses which are insulated a nano-glass paint layer with 0.25 SHGC (heat transfer coefficient).
SWPH uses various types of light bulbs to suit different functional areas. The most commonly used bulbs are LED, T5 and downlight LED which are energy-saving.
Besides, the Building uses a BMS automatic control system that enables the power system to automatically switch on or off when a problem occurs, monitor daily energy use and automatically alarm if the daily energy consumption is suspicously high.
Along with investing in energy-saving equipment, the SWPH is designed to harness the natural scene advantages to save energy. It was built on an airy land with many trees with the main direction of Southeast. The canopies help reduce solar radiation. Glasses, accounting for more than 50% of the entire wall area, make the most of natural light.
The glass door makes the most of natural light
Furthermore, the maintenance work is also concerned. A representative of SWPH management board said that all equipment is always periodically maintained by qualified engineers, promptly detected and dealt with unnecessary problems to strictly manage energy consumption and avoid power loss.
The total effect of above energy-saving solutions has helped Somerset West Point Hanoi use energy efficiently and contribute to reducing CO2 emissions.
To Quyen wrote | Giang Nguyen translated