Song Binh solar farm, launched on Jan. 27, aims to provide a total power output of nearly 20 million KWh per year.
The project is funded by Edge Vietnam with consultation in financial investment and management from Edge Plus Holdings Pte (Singapore).
Song Binh solar farm is in Song Binh Commune, Bac Binh District, Binh Thuan Province, an area with the highest solar power potential in the country based on a high average of sunny hours and stable heat radiation.
The farm was set up from early November 2020, with a capacity of 10 MWp.
Sun Power is the best performance solar control panel available today.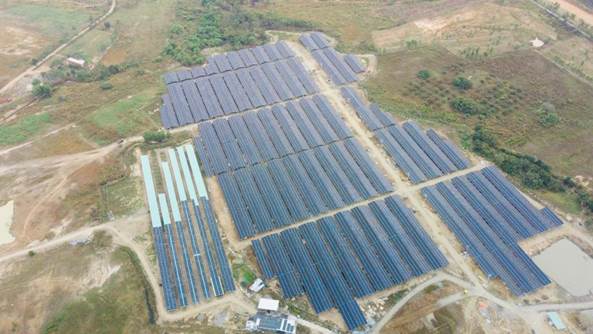 Solar panels at Song Binh farm in Binh Thuan Province.
At the grand opening, Edge Vietnam signed a cooperation agreement with WOSS Cooperation to provide smart battery systems to safely and efficiently store solar power, providing its clients with consistent electrical supply when sunlight is limited or unavailable.
In addition, Edge VN and Edge Plus Singapore are looking for opportunities to develop smart solar power plants across Vietnam in the near future.
The solar farm is supported by cutting-edge technologies, including Sun Power solar panels from the United States and solar optimizers from WOSS Cooperation. The solar optimizers are integrated with AI technology and Edge Computing to maximize electricity output.
Speaking at the opening, Do Van Loc, Deputy Chairman of National High Technology Program, praised WOSS Cooperation for its use of benchmark-setting technologies in the project and expressed his hope of seeing more of its use at other solar farms.
"Song Binh rooftop solar farm is proud to be an IoT-enabled solar farm leading the Vietnamese renewable energy industry. Building and developing a solar farm like Song Binh not only promotes local economic development, but also contributes to the climate change fight by promoting clean energy," a project representative said.
Song Binh solar farm aims to meet the surging demand of clean energy in Vietnam. According to Vietnam Electricity group EVN, the current total installed capacity for solar power projects connected to the national power system is nearly 9,296 MWp, accounting for up to 25 percent.
Originally published on Vnexpress