Japanese trading house Mitsui & Co. will partner with General Electric to develop an online monitoring system that analyzes data transmitted from mining equipment to realize maximum operational efficiency.
The system will use GE's Internet of Things platform to collect data from mining machinery, transport vehicles, harbors and ships to configure the best operation methods, from mining to delivery, and to prevent equipment breakdowns. Gas pipelines, filling stations and machinery will be loaded with sensors to transmit data.
Mitsui owns concession rights to coal and iron mines in Australia, South America and Africa through partnerships with resource giants, with its share of iron ore output totaling 50 million tons a year. The system will be tested at Mitsui's own mines in a year or so. After building a track record, it will be marketed to other mine operators.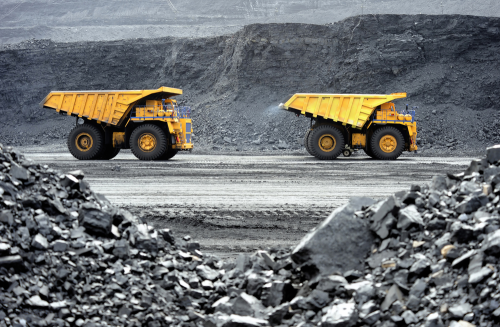 The pair will also eye energy conservation. Mitsui's excavators and dump trucks currently run on diesel but will gradually switch to liquefied natural gas by tapping GE technology.
Operating costs at three major resources companies, including Anglo-Australian mining giant Rio Tinto and Australia's BHP Billiton, are seen coming to 2 trillion yen to 2.7 trillion yen ($15.9 billion to $21.5 billion) a year, with fuel costs making up roughly 20%. If they are able to switch to vehicles and machinery powered by LNG, that would cut fuel costs by 20-30%.
Resource prices have been dropping sharply since the latter half of last year, hitting trading houses, including Mitsui. The Japanese company's group net profit for the fiscal year ended March 31 fell 12% on the year to 306.4 billion yen. Mitsui's energy and resources operations make up 70-80% of group net profit, which is a high ratio even among trading companies. Its earnings are expected to fall further this fiscal year due this high reliance.
Mitsui's collaboration with GE is an attempt to break free from a tough business environment. The system will boost the cost competitiveness of its mining operations, thereby limiting the drop in earnings. And Mitsui will be able to sell this new system to other trading companies and major mining companies, opening up a new revenue source.

Anh Tuan