In case you didn't know, urban skiing is apparently a thing, and it just got a little weirder. From the innovative architecture desk this week comes news of a proposed residential apartment building in Kazakhstan — with a 1,000-foot-tall ski slope attached.
Designed by Shokhan Mataibekov Architects, the project known as Slalom House would cost about $70 million to build, and actually has some serious momentum. The city of Astana, where Slalom House would be erected, is known for its fashion-forward architecture.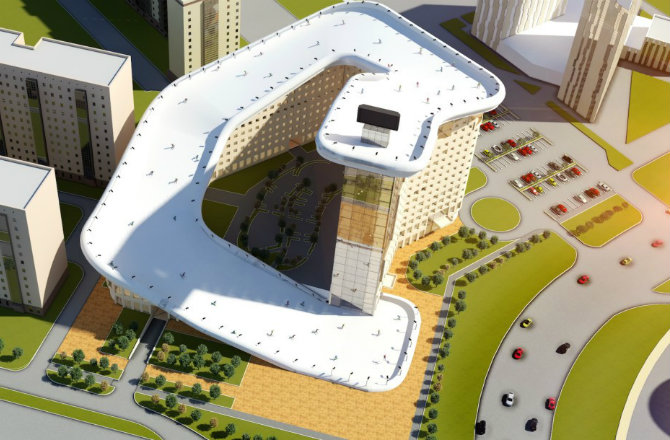 What's more, Astana is four hours away from the nearest traditional ski facility and it's filled with winter sports enthusiasts. According to a write-up on the project over at CNN, a sizeable contingent of Kazakh athletes competed at the 2014 Winter Olympics in Russia, including alpine skiers, freestyle skiers and snowboarders.
The Slalom House would function as both a mixed-use residential/retail building and a year-round winter sports facility, according to designers. Access to the rooftop slope would be provided by "panoramic elevators" rising up from street level.
Skiers would slalom down natural snow in the winter months, and designers are considering the artificial Snowflex surface for year-round use. Snowflex itself is pretty interesting — it's a cushioned fiber surfacing product already in use at facilities in the U.S. and Europe.
With the current design plans, Slalom House would feature 421 two-bedroom apartments on 21 stories, with shops and restaurants housed on the lower floors. The design was recently accepted as a finalist in the 2015 World Architecture Festival, giving the project even more momentum.
In any event, the Slalom House offers some new options for getting down to the lobby.
Inhabitat