On October 24, 2015, German House Company Ltd. in Ho Chi Minh City held the official ground breaking ceremony for construction of the German Styled House at 33 Le Duan Street, District 1, Ho Chi Minh City.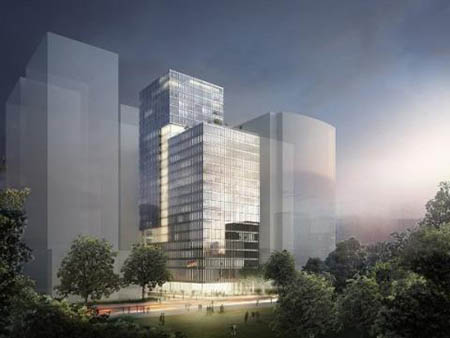 The Building is the symbolic "lighthouse", representing the relationship of strategic cooperation
German Styled House representing the cooperation project between Vietnam and Germany, is a meeting place, the ultimate destination for business cooperation between Germany and ASEAN countries and Vietnam, also the location for companies and organizations from Germany and central Europe to establish their headquarters to promote the commercial connections in trades, culture, education, economic development between German and Vietnamese enterprises.
German Styled House is designed with orientation to become a green office buildings, top-quality level in the city to achieve LEED Gold certification (the Leading in Energy and Environment Design) and equivalent to German certification.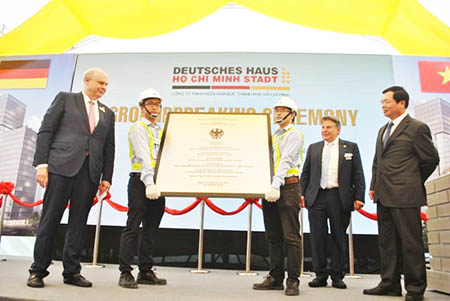 The foundation stone of the German Styled House
Specifically, the German Styled House has all the comforts and modern services, the most advanced design with cost savings, lower energy consumption, through the use of biological building materials, to be combined with the most advanced technologies from Germany, associated with high durability, including the installation of accessory equipment and photovoltaic panels to generate renewable energy.
One of the main features is the two-faced facades which reflects the latest German technology. It is the first ever building with its two facades in Vietnam and Southeast Asia, ever built to corroborate the energy saving structure in the climatic conditions in Vietnam.
Additionally, Germany Styled House in Ho Chi Minh City also set a new benchmark and new standard in Vietnam on a "physical and mental health care" for its dwellers and staff, creating values for various spatial workspaces.
Currently, the construction is on-going with the 4 basements, and the German Styled House will be completed by August 1st, 2017.
Trong Tan