To improve the economical and efficient use of energy in the business community, the electricity sector and other relevant departments of Can Tho City implemented many operations with dissemination of solutions, patterns of economical and efficient use of energy. It is meant to help businesses choose the solution and application models for optimization of energy efficiency, consistent with the size and condition of each enterprise.
Various practical activities
According to the Can Tho Power Company, to implement effectively the national target program on economical and efficient use of energy, during the past time the power sector has been actively promoting various communication activities calling for energy-saving practices in the business community. In parallel to them, in cooperation with the Department of Industry and Trade, Can Tho organized many training in safe, economical and efficient use of energy for the workers, energy managers in many businesses in the city. On that basis, it is meant to provide the knowledge, technical solutions utilized in energy-saving boiler systems, industrial refrigeration systems in the production lines in factories, warehouses, and workshops. It is also to contribute to improving the knowledge in management of energy savings among workers and energy managers, to save the production costs and improve business efficiency for businesses.
Besides, in December 2015, Can Tho Power Company also conducted the program "Gratitude to Our Customers". Accordingly, there were many activities to be deployed, such as timely processing electrical technical breakdowns, answering customer complaints promptly; deployment of business services in accordance with the regulated procedures; uplifting the morale, attitude in customer services. Also, in collaboration with relevant units, the company sent instant messages to thank customers via SMS or E-mail to all customers who use electricity as enterprises, production and business households, and electricity users as households and individual.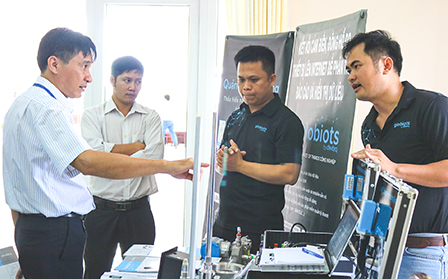 Mr. Duong Nghia Hiep, deputy director of Can Tho City Department of Industry and Trade cum Director of Energy Conservation Center (Can Tho ECC), said: Recently, the city deployed synchronous communication activities, solutions on energy saving and efficiency to all classes of people. Timely information on the status and trends of energy consumption in the manufacturing industry in the city is regularly announced. In 2015, Can Tho ECC also collaborated with the electricity sector and the relevant units of city to conduct audits for key businesses which use electricity for seafood processing, and food. On this basis, Can Tho ECC conducted the consultancy in technology application of solutions for optimal energy efficiency to match with each type of business. To improve the energy efficiency in the business community, in 2015, Can Tho ECC collaborated with relevant units to concentrate on training programs for energy managers and technicians in key energy consummers inside and outside the city.
The training program focused on some popular content about the energy efficiency, the potentiality in manufacturing and trading of food processing, textiles, cement, and commercial buildings. Also, the Center deployed some contents that focus on economical and efficient use of energy of industrial production facilities, and mandate of the energy management. It then helps key energy consumers keep tracked in compliance with the Law on economical and efficient use of energy. In addition, the training program also provides in-depth knowledge about energy savings in air-conditioning systems; industrial cooling systems, steam systems, pump, fan, compressor system and lighting, all of which help energy managers, technicians in the business understand their energy demands.
By deploying multiple asynchronous operations in support to businesses, the enterprises could select the solutions and application patterns of most optimal energy efficiency, especially for the key energy consummers. To date, the effectiveness of the program has attracted the attention of many enterprises.
Trong Tan
.