Pattern Energy Group, and Green Power Investment Corporation has announced the completion of the 14 megawatt (MW) Kanagi Solar photovoltaic (PV) power facility. Pattern Development and GPI are joint venture (JV) partners that developed and built the Kanagi Solar power facility, which is located in Shimane prefecture of Japan. GE Energy Financial Services, a General Electric unit, currently maintains an ownership stake in the project.
"Following our recent completion of Futtsu Solar, Kanagi Solar is now our second solar project to reach commercial operations this year, both on budget and on schedule," said Toshio Hori, CEO and founder of GPI.
"We intend to build on these accomplishments in solar and expect similar successes in wind as well in the near future."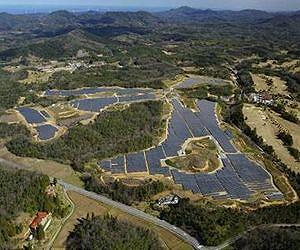 "With two solar projects now operational, we are beginning to deliver on our commitment to develop 1,000 MW of new renewable energy sources in Japan, with much more to come," said Mike Garland, President and CEO of Pattern Development.
"Together with GPI, we have a broad and deep pipeline of both wind and solar projects. We look forward to developing additional renewable energy facilities that will help Japan reach its clean energy goals."
Kanagi Solar has a 20-year power purchase agreement with Chugoku Electric Power Company (CEPCO) for 100% of the output from the facility.
The facility's high-quality PV solar panels are being supplied by Kyocera Solar Corporation, a Japanese subsidiary of Kyocera Corporation. Kyocera Communication Systems managed construction and will manage operations and maintenance of the Kanagi Solar facility.
In March, Pattern Development and GPI announced the completion of Futtsu Solar, a 42 MW PV solar power facility located in Japan's prefecture of Chiba.
Affiliate company Pattern Energy Group Inc. had previously added the Kanagi and Futtsu Solar facilities to its list of identified Right of First Offer (iROFO) projects.
Solardaily.com