Delhi is getting its first hydro-power plant, but it's not harvesting the energy of running water in the traditional hydroelectric model, as this new system uses falling water from a treated sewage effluent pipe to spin its turbine.
Recapturing some of the energy in flowing water that is generated by existing processes, such as municipal water supplies, is one non-traditional step for hydropower, and cities such as Portland have begun experimenting with this sort of 'smart water pipe infrastructure.
The new hydropower plant, in East Delhi, India, is built onto the Delhi Jal Board's 9 MGD sewage treatment plant at Chilla, and is said to be the first of its kind, not only because it's being powered by effluent water, but also because it's the first hydropower plant in the city. According to the Delhi Jal Board (DJB), this pilot project was set up "free of cost," and the estimated annual 20,000 kWh of electricity produced by the hydropower installation will be used directly at the sewage treatment plant.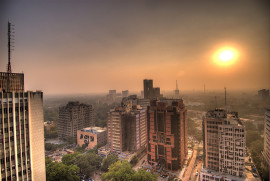 "The use of fossil fuels leads to the generation of carbon dioxide which in turn leads to Green House Effect and Global Warming. However no fossil fuel is being used in the generation of the power through Hydropower at Chilla, therefore this technology is termed as "pollution free technology."" – Delhi Jal Board.
The treated effluent water falls from a height of 4.8 meters at the sewage treatment plant, which is sufficient to spin the turbine and generate clean electricity, and this 'Green Power Generation' energy technology will help to reduce both air pollution and electricity costs. No additional specs, other than the estimated 20,000 kWh of electricity annually, for the installation were available. According to DJB, the Board is also looking to replicate this hydropower setup at its other installations in the future.
Mai Linh